Eddig sem volt túl sok szerencséjük a széllel, bár Omán még hagyján, de Szingapúrt már idegörlőnek minősíthettük. És most nincsenek szavaink a kínai állomásra.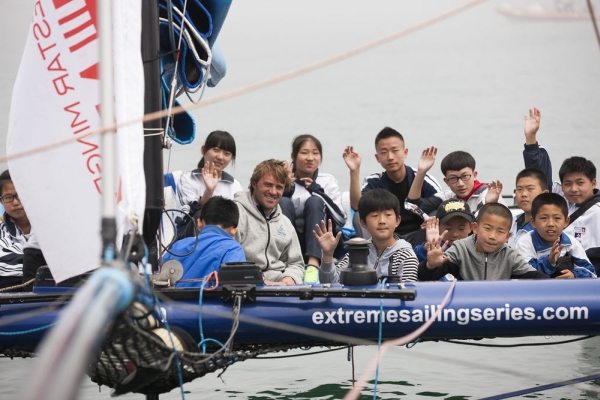 A négy nap legizgalmasabb eseménye körülbelül az volt, amikor szerdán bejelentették, hogy a Land Rover beszáll névadó szponzornak. Külön fejtörést és technikai tudást követelhetett meg a cég logójával felcicomázott hajó promófényképének összehozása.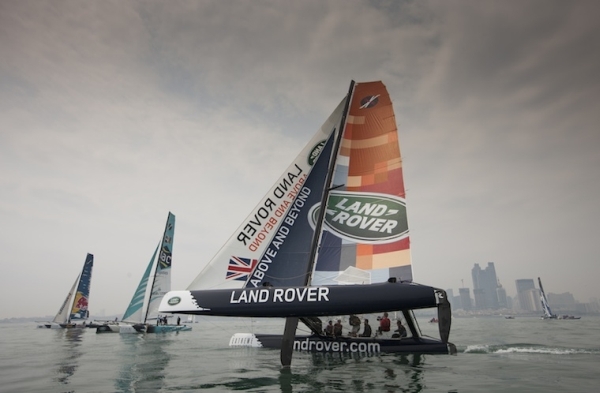 Ezt követően öt futamra került sor (a hatodikat érvényteleníteni kellett). Az Alinghi-t megint Morgan Larson vitte Ernesto Bertarelli helyett, nyertek is hármat. Egyúttal ők voltak a leggyorsabbak a mezőnyben, könnyen elképzelhető, milyenek lehettek a viszonyok, ha ezt a titulust 8,03 csomós teljesítménnyel el lehetett érni: szerintem ott folytattuk, ahol Szingapúrban abbahagytuk, és ez számunkra jót jelentett. Pedig könnyen lehetett volna hibázni párat, majd teljesen szétesni, de szerencsére mindenki észnél volt. (Eredményük 47 pont. Az úgynevezett nyíltvízi ("open water") menetekben a Realteam (korm.: Jerome Clerc) és a China Team (egy futam erejéig Lijia Xu-t is vendégül látták) tudott még futamot nyerni, előbbi az összetett második helyen várta a folytatást (36), míg a harmadik helyen a The Wave - Muscat (33) állt. Roman Hagara-ék (Red Bull Sailing Team) utolsó helyére és 22 pontjára nem mondunk semmit.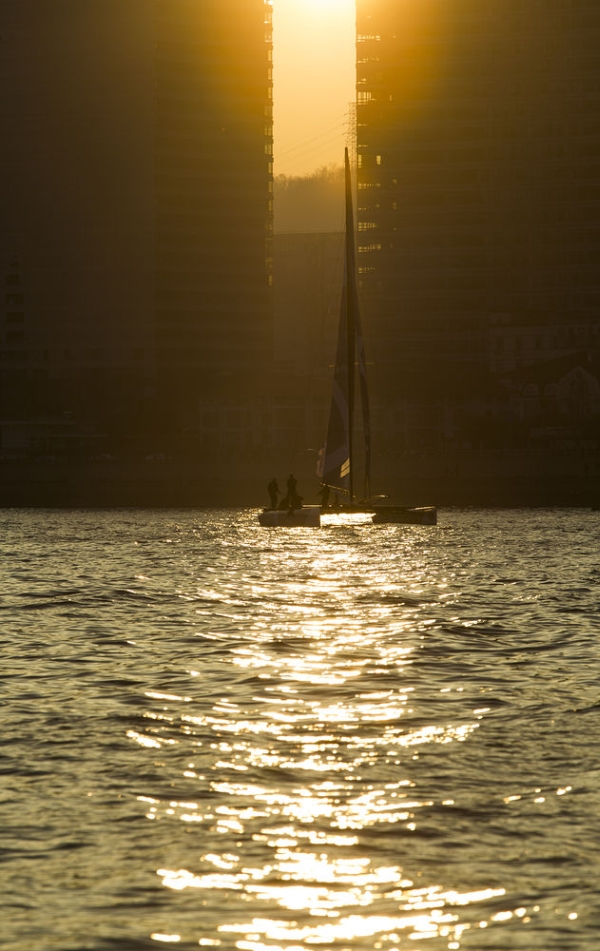 Pénteken nyolc futam zajlott le, a Qingdao TV pedig leadta élőben mindet. Ekkor már a Fushan-öbölben zajlott a küzdelem ("stadium sailing"), amit az élen harcként is leírhatunk, az Alinghi és a The Wave egész nap egymást űzték szoros helyzeteken és számtalanszor előrántott óvózászlókon keresztül. A végére az Alinghi előző napi 11 pontos előnye 3-ra fogyott, a második és a hatodik között pedig 20 pont különbséget láthattunk, ami nem sok ebben az osztályban. Leigh McMillan (The Wave, Muscat): ma végre megfordult a szerencsénk, véget vetettünk az előző verseny és a tegnap rossz sorozatának. Igykeztünk jól vitorlázni és jól kommunkálni egymással, ez ma sikerült. Rasmus Kostner (taktikus, SAP Extreme Sailing Team): imádunk itt lenni! 15 fok és eső - tisztára, mint a dán nyarak! Partközeli vitorlázás esetén minden nagyon gyorsan változik. Ha az ember túl sokat vár, könnyen elszalaszthatja a lehetőségeit. Az élen Alinghi (102 pont), The Wave - Muscat (99), GAC Pindar (85).
Szombaton vastag ködre ébredt mindenki, az öt csomós szélben végül négy megtartott futamra délután fél ötig kellett várni. Ezek közül kettőt megnyert a The Wave, és átvette a vezetést (132 pont), McMillan este így nyilatkozott: úgy akartunk versenyezni, hogy ne legyünk egy ritmusban a többiekkel, mert a szűk a pálya és a sok manőver miatt nincs se hely, se idő kerülgetni egymást. Ha pedig mindezt együtt csinálod velük, csak lassítjátok egymást. Mi próbáltunk kimaradni ebből, és úgy fest, összejött. Az Alinghi nem csak az első helyet bukta, de az utolsó futamban egy sima jobbcsapás-balcsapás helyzetben össze is törték a bal hajótest hátulját - azonnali büntetés. A parton a Bírók újra elemezték a helyzetet, és arra jutottak, hogy az egyébként útjogos Realteam elkerülhette volna az ütközést, így másnapra rajtbüntetést írtak elő nekik.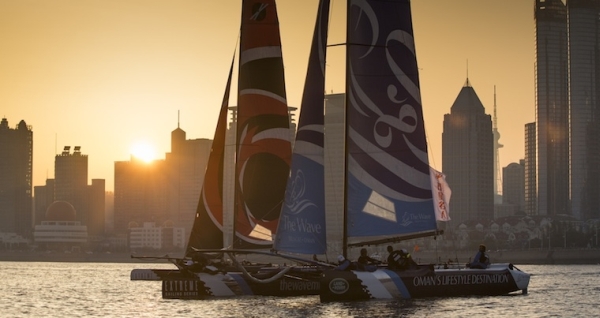 Vasárnap kilenc(!) futam ment le, a korábbiakhoz képest egy fokkal "normálisabb" viszonyok között. Ebből a SAP nyert hármat, amivel följebb léptek a tabellán, és bronzéremmel a nyakukban zárták a regattát (megismételve a szingapúri sikerüket). Jes Gram-Hansen, kormányos: nekünk nagyon is megfelelő ez az eredmény, remélem, a jövőben tudunk rá alapozni. A The Wave és az Alinghi sokkal jobban vitorlázik, mint mi, de ma azért odapiszkáltunk nekik. Egyre közelebb kerülünk hozzájuk. Az utolsó, dupla pontokért zajló küzdelmet ugyan a svájciak nyerték, de ez sem volt elég, mert a The Wave másodiknak ért célba, így maradt két pont előnyük.
Végeredmény:
1. The Wave, Muscat (OMA) Leigh McMillan, Ed Smyth, Pete Greenhalgh, Musab Al Hadi, Will Howden 202 pont
2. Alinghi (SUI) Morgan Larson, Stuart Pollard, Pierre Yves Jorand, Nils Frei, Yves Detrey 200
3. SAP Extreme Sailing Team (DEN) Jes Gram-Hansen, Rasmus Kostner, Pete Cumming, Mikkel Røssberg, Nicolai Sehested 191
4. GAC Pindar (NZL) Will Tiller, Shaun Mason, Stewart Dodson, Harry Thurston, Matt Steven 181
5. Red Bull Sailing Team (AUT) Roman Hagara, Hans Peter Steinacher, Matthew Adams, Simon Cook, Graeme Spence 168
6. Team Korea (KOR) Peter Burling, Matt Vincent, Mark Bulkeley, Tom Johnson, Sungwok Kim 163
7. Realteam (SUI) Jerome Clerc, Bryan Mettraux, Arnaud Psarofaghis, Cédric Schmidt, Thiery Wassem 154
8. China Team (CHN) Mitch Booth, Wen Zijin, Yingkit Cheng, Liu Xue, Zhang Yiran 145
Az összetett állása:
1. Alinghi (SUI) 27 pont
2. The Wave, Muscat (OMA) 26
3. Red Bull Sailing Team (AUT) 24
4. SAP Extreme Sailing Team (DEN) 20
5. Team Korea (KOR) 16
6. GAC Pindar (NZL) 16
7. Realteam (SUI) 14
8. Team X - Meghívott 13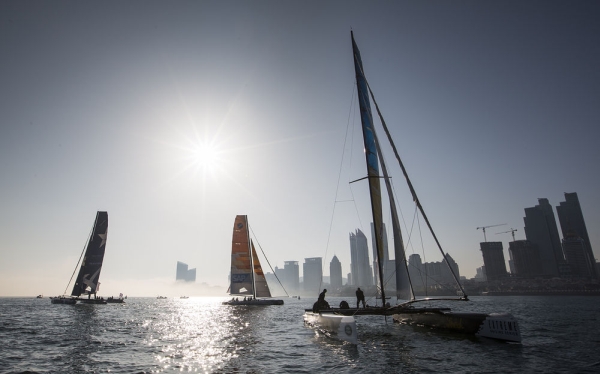 (fotók: Lloyd Images)
(forrás: extremesailingseries.com)
A bejegyzés trackback címe:
A hozzászólások a vonatkozó jogszabályok értelmében felhasználói tartalomnak minősülnek, értük a szolgáltatás technikai üzemeltetője semmilyen felelősséget nem vállal, azokat nem ellenőrzi. Kifogás esetén forduljon a blog szerkesztőjéhez. Részletek a Felhasználási feltételekben és az adatvédelmi tájékoztatóban.