Korábban, némileg cinikusan úgy fogalmaztunk, hogy az Extreme Sailing Series az, amikor egyforma katamaránok versenyeznek egymás ellen rengeteg futamon, majd a végén a The Wave - Muscat nyer. Nos, nem  mindig van így...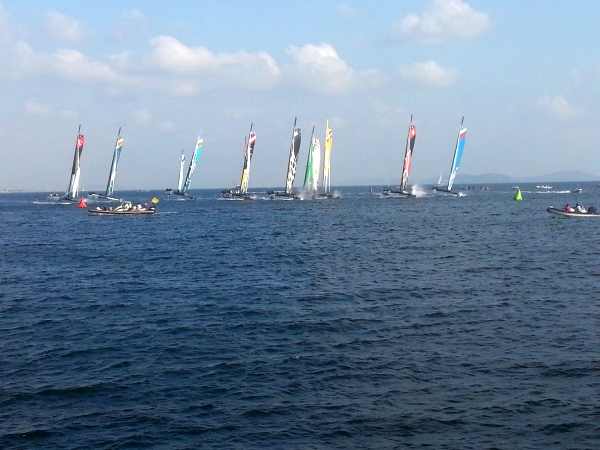 Kövessetek bennünket Facebook-on, akadnak finomságok, amiket csak ott jelenítünk meg! És van még Twitter-oldalunk is…
A múlt héten a tizenkét hajós flotta harmincegy futamot nyomott le Isztambulban, a hivatalos beszámolók helyett mi most inkább helyszíni tudósítónk vasárnapi tapasztalatait osztjuk meg veletek.
A taxiból 1 másodpercre megpillantot zászló tudatta velem, hogy az Extreme Sailing Series 40 lábas katamaránjai a hétvégén a városban versenyeznek. Ezen felül még 1-2 plakát a villamosmegállóban, de sehol hatalmas nyilak és információs táblák. Így kicsit nehéz volt megtalálni a kompterminál mellett felállított verseny falut, ami tulajdonképpen csak tanya volt, mert az adekvált méretű szponzor sátor mellett csak egy kite-os bódé és egy 2 rámpás Land Rover akadaly bemutató pálya volt felépítve.
Maga a verseny viszont az volt, aminek hirdeti magát: rövid, pörgős futamok a parthoz közel, hogy a vasárnap délután arra járó 150 nézelődő a lehető legközelebbről láthassa a hajókat és a legenységet. A laikusok számára élő műsorközlés szólt a hangosból két nyelven, de az egyszerű, kb. 500 méteres up&down pályán a két kört bárki könnyen átláthatta. A kreuz bójától való leejtés után a hajók taktikától függően 20-50 méterre húztak el a friss 12-15 csomós szélben, így a csörlőzést és a dühösebben elhangző kormányosi utasításokat is hallani lehetett.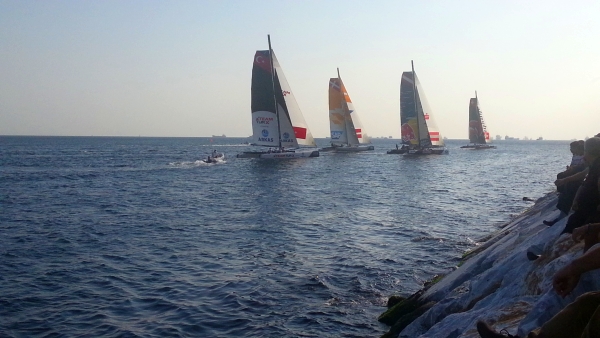 A négy napos verseny utolsó napjának három záró futamát sikerült megtekintenem. Egyedül álló élmény a rajt, amikor a 12 katamarán nekiáll helyezkedni, kb. 10 másodperccel a rajtlövés előtt még nagyon lassan haladnak, de hirtelen felgyorsulva, időben átlépik a vonalat és megindulnak a part alatt lévő pályajel felé. A két első futamban az Alinghi diadalmaskodott remek taktikázással, az utolsóban pedig megmutatták, mennyire számít az egész sorozatban elért helyezés. Köszönhetően az utolsó futamban elérhető dupla pontoknak, három hajó állt úgy a vonalhoz, hogy megnyerheti az isztambuli állomást. Az Emirates Team New Zealandnak 2 hajóval kellett vernie a The Wave Muscatot, hogy ebben a kiírásban diadalmaskodjon. Ha az omániak ezt elkerülik, nyertek. A kivik ennek megfelelően rögtön az élre álltak, míg a The Wave egy gyengébb rajt következményeként a 4. helyről próbáltak előre jönni. A sorrend azonban az utolsó kreuz bójáig nem változott. Ekkor a harmadik Alinghi előbb egy jobbcsapással, majd egy élesebb hajó helyzettel szinte megállasra kényszerítette a The Wavet. A bemondó Knézy Jenőt idéző elemzéssel világosította fel a nagyérdeműt, hogy a svájciaknak az év végi elszámolásnál igenis számít, hogy a The Wave még negyediknek se fusson be. A fent említett manővereknek köszönhetően mindkét egység vissza csúszott kb. 4 helyet.
Befutást követően a hajók szépen kivitorláztak és bójára kötöttek egy ideiglenes stég közelében, ahol partra is szálltak a csapatok. Itt várta őket a sajtó és az autógramvadászok (egy Op-s kiscsávó az anyukájával), akik sorra megállították a szkippereket egy rövid interjúra.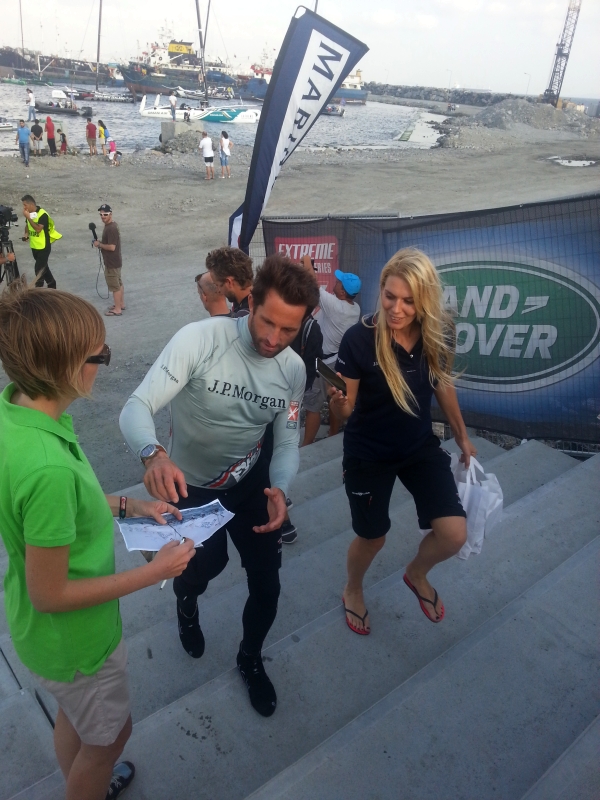 A díjkiosztóig eltelő majd fél óra alatt a vitorlázók, ázsiótól, olimpiai- és világbajnoki címek számától függetlenül a pódium körül, szigorúan nem elzárt területen lődörögtek, amíg az MC színpadra nem szólította őket.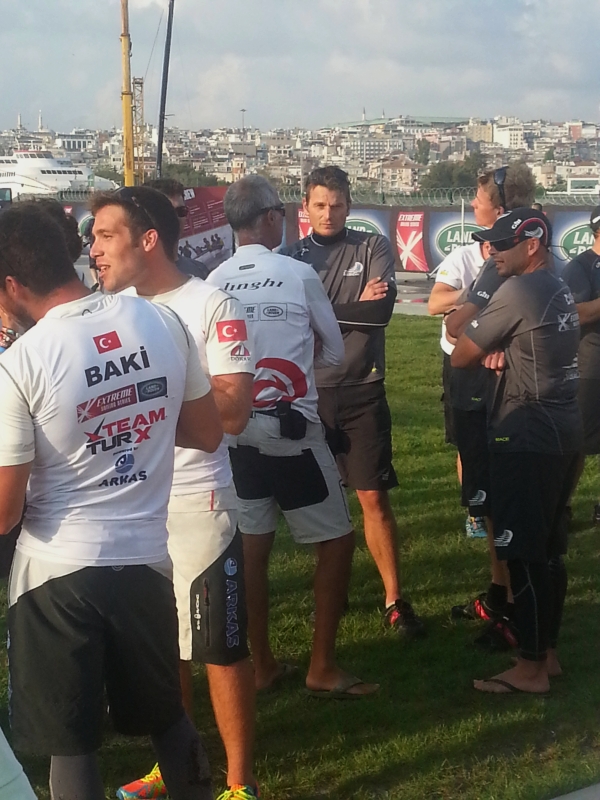 Így eshetett, hogy az ember vitorlázásért rajongó egyszerű fia testközelből fotózhasson, illetve 5 percnyi bátorsággyűjtés után közös képet kattintson Sir Ben Ainsle-vel vagy Sarah Aytonnal.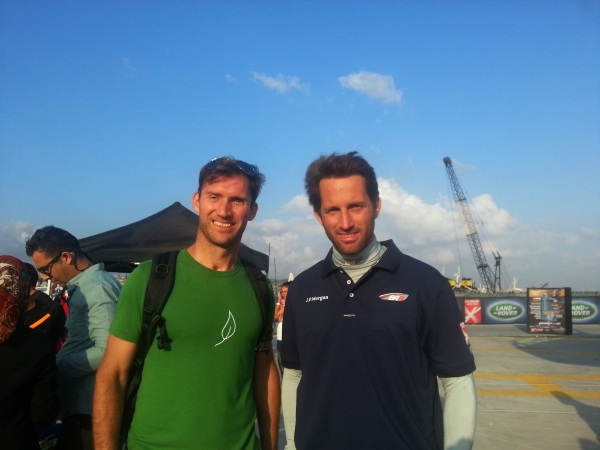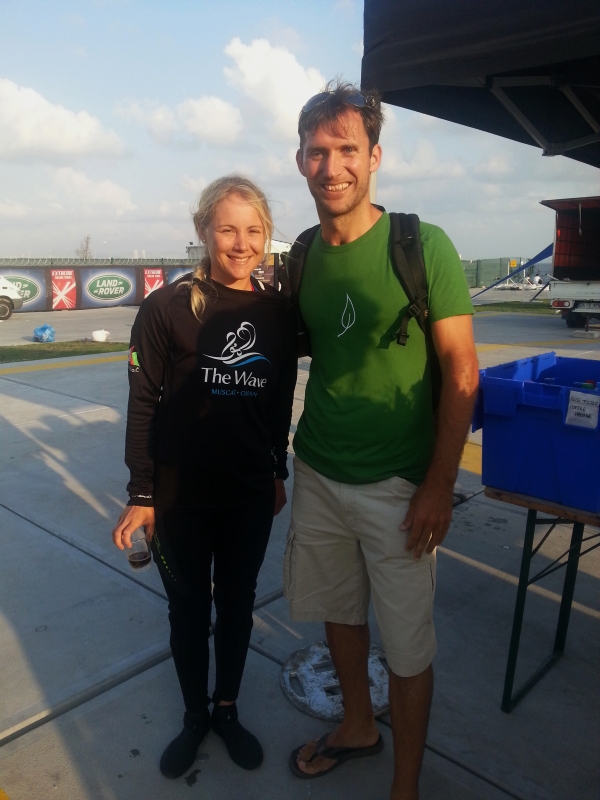 Hát így...
Végeredmény:
1. Emirates Team New Zealand (NZL) Dean Barker, Glenn Ashby, James Dagg, Jeremy Lomas, Edwin Delaat 210 pont
2. The Wave, Muscat (OMA) Leigh McMillan, Sarah Ayton, Pete Greenhalgh, Kinley Fowler, Nasser Al Mashari 204
3. Alinghi (SUI) Morgan Larson, Stuart Pollard, Pierre-Yves Jorand, Nils Frei, Yves Detrey 188
4. Oman Air (OMA) Rob Greenhalgh, Ted Hackney, Kyle Langford, Hashim Al Rashdi, Musab Al Hadi 169
5. SAP Extreme Sailing Team (DEN) Jes Gram-Hansen, Rasmus Køstner, Thierry Douillard, Christian Kamp, Brad Farrand 154
6. Groupama Sailing Team (FRA) Tanguy Cariou, François Morvan, Romain Motteau, Thierry Fouchier, Devan Le Bihan 148
7. J.P. Morgan BAR (GBR) Ben Ainslie, Nick Hutton, Paul Goodison, Bleddyn Mon, Matt Cornwell 143
8. Red Bull Sailing Team (AUT) Roman Hagara, Nick Blackman, Mark Bulkeley, Shaun Mason, Stewart Dodson 142
9. Realteam by Realstone (SUI) Jérôme Clerc, Arnaud Psarofaghis, Bruno Barbarin, Cédric Schmidt, Thierry Wassem 135
10. GAC Pindar (AUS) Nathan Wilmot, Jack Macartney, Ed Smyth, Seve Jarvin, Tyson Lamond 130
11. Gazprom Team Russia (RUS) Igor Liszovenko, Phil Robertson, Matt Adams, Pete Cumming, Alekszej Kulakov 126
12. TeamTurx (TUR) Mitch Booth, Can Bayülken, Selim Kakış, Deniz Çinar, Anıl Berk Baki 85 points.
forrás: extremesailingseries.com
A bejegyzés trackback címe:
A hozzászólások a vonatkozó jogszabályok értelmében felhasználói tartalomnak minősülnek, értük a szolgáltatás technikai üzemeltetője semmilyen felelősséget nem vállal, azokat nem ellenőrzi. Kifogás esetén forduljon a blog szerkesztőjéhez. Részletek a Felhasználási feltételekben és az adatvédelmi tájékoztatóban.