Ma ugyanis a két szörfös csapat és a női párosversenyzők kivételével minden osztály teljesítette a napi adagot. A parton maradottak sem lustaságból választották a szárazföldet, nekik a hivatalos program szerint járt a pihenőnap. És volt, ahol már az éremfutam tizese is kialakult.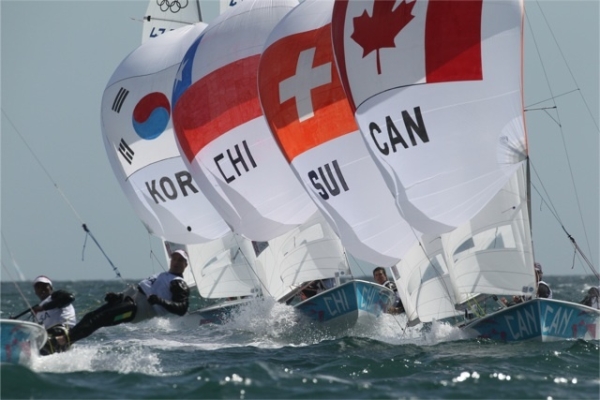 Férfi 470: rajt-cél győzelmet arató olaszok (Zandona - Zucchetti), mögöttük három másodperccel célba érő ausztrálok (Belcher - Page), jól indító, végül harmadik helyre szoruló argentínok (Calabrese - de la Fuente). Negyedikek lettek a britek, amivel még mindig maradtak az élen összetettben. A második futamban utolsó pillanatos helycsere, a végig vezető britek "átadták" az elsőséget az ausztráloknak. Harmadik - végig ebben a pozícióban vitorlázva - Stuat Mcnayés Gaham Biel (USA). Az előző menetben brillírozó olasz és argentín páros nyolcadik és kilencedik helyen ért célba.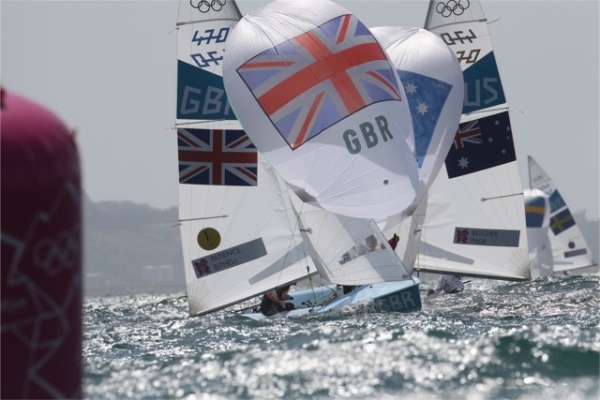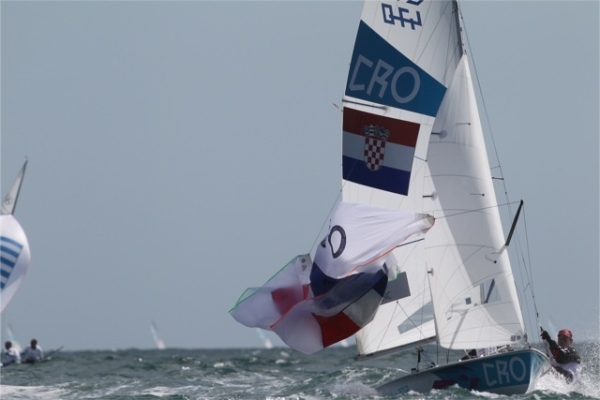 Női 470: Az első négy (bár két futam után van-e értelme az összetett sorrendet vizsgálni?) elég szorosan van: Hannah Mills - Saskia Clark (GBR) 6, 1 (7 pont), Jo Aleh - Olivia Powrie (NZL) 2, 6 (8), Lisa Westerhof - Lobke Berkhout (NED) 1, 8 (9), Amanda Clark - Sarah Lihan (USA) 7, 3 (10). Két szélsőséges értéket emelünk még ki, érdekességük okán: a németek (Kadelbach - Belcher) 19,2-t voltak képesek vitorlázni, az izraeli Cohen - Buskila páros pedig 3, DSQ-val zárta a napot.
 49er: három futam zajlott, az osztályra jellemző izgalmak mellett, egyenletes teljesítmény lényegében csak az utolsó (20.) helyen tanyázó görög páros nyújtott: 20, 19, 18. Az élen sokkal nagyobb szórások közepette Outteridge - Jensen (AUS) 9, 5, 4, Burling - Tuke (NZL) 7, 2, 1, Lehtinen - Bask (FIN) 1, 11, 3. A tavalyi év vitorlázói, Iker Martinez és Xabi Fernandez (ESP) 12, 14, 8, ezzel összetettben tizenkettedikek, 97 pontjuk megegyezik a tizenegyedik írekével, és kettővel több, mint a tizedik helyen álló Storck - Morre (USA) kettősé. Ha be akarnak férni az éremfutamba, össze kell kapniuk magukat a hátrelévő négy menetben.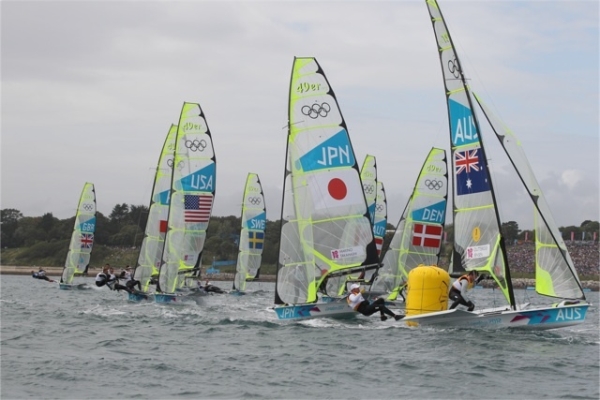 Finn: az élen még mindig Jonas Högh-Christensen (DEN), ma két ponttal többet gyűjtött, mint a nagy ellenfél, Ben Ainslie (GBR), aki ugyan maradt második összetettben, hátránya azonban két pontra csökkent (26 és 28). Mivel a harmadik helyen Pieter-Jan Postma 42 pont tulajdonosa, az éremfutamban komoly párosverseny várható az aranyért - de csak vasárnap!
 Laser: Slingsby egy tizennégy (amit gyorsan ejt is) után egy elsővel szépített, a második Kontides 12, 7-et ment ma, és a harmadik Tonci Stipanovic is csak 8, 13-ra volt képes. Az első futamot speciel Julio Alsogaray (ARG) nyerte, majd másodikra fekete zászlós rajtnál kiugrott. Ez lett az ejtője, de így is tizedik. Jean Baptiste Bernaz (FRA) használta még ki jól az élen állók gyengeségét, bár második helyére egy tizennyolcadikat húzott. Paul Goodison (GBR) hátfájása valószínűleg nem javul, tizenhetedik és tizenkettedik helyét tudjuk be ennek. Berecz Zsombor a tegnapi siker után 21, 14. Csak sejtjük, hogy előbbiért küzdött többet, abban a futamban ugyanis volt, hogy a negyvenegyedik helyen vitorlázott. Végül a 22. helyen futott be, de volt két DSQ és egy BFD, valamelyikük előle esett ki.
 Laser Radial: a négy első hellyel kezdő Annalise Murphy nevét már mindenki megjegyezte, de már nem ő vezet, és sokkal sűrűbbé vált a mezőny, mint korábban volt. Evi van Acker (BEL) 8, 1 (23 pont), Murphy (IRL) 2, 10 (24), Marit Bouwmeester (NED) 4, 3 (26). Mögöttük a kínai Lijia Xiu áll 30 ponttal (ma: 1, 4). Sari Mutala (FIN), aki szintén esélyesként érkezett Londonba, ma 3, 2-vel hívta fel magára a figyelmet - bár 53 pontja elég soknak tűnik, tudva, hogy már csak két futam van hátra.
 Star: itt három egység emelkedik ki a mezőnyből, Iain Percy - Andrew Simpson (GBR) ma 4, 1 (18 pont), Robert Scheidt - Bruno Prada (BRA) 1, 3 (26), Fredrik Lööf - Max Salminen (SWE) 2, 6 (30). Összetettben negyedik a norvég Melleby - Pedersen, de nekik 53 pontjuk van, éremre már esélyük sincs. Itt is vasárnap zajlik a duplapontos (nem kiejthető) zárófutam.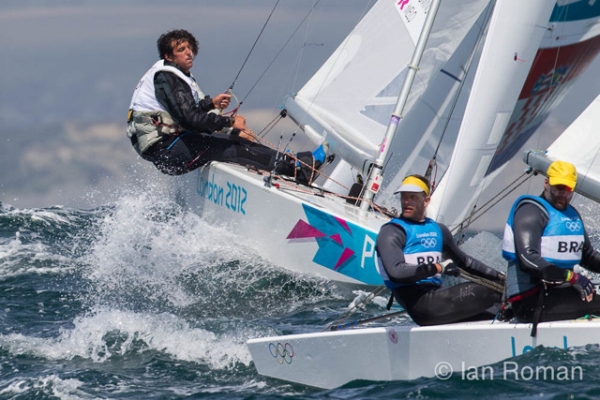 (fotók: Matthew Sheahan/Ian Roman)
(forrás: sailing.org)
A bejegyzés trackback címe:
A hozzászólások a vonatkozó jogszabályok értelmében felhasználói tartalomnak minősülnek, értük a szolgáltatás technikai üzemeltetője semmilyen felelősséget nem vállal, azokat nem ellenőrzi. Kifogás esetén forduljon a blog szerkesztőjéhez. Részletek a Felhasználási feltételekben és az adatvédelmi tájékoztatóban.