Eredmény, eredmény, eredmény, eredmény. Mondjuk ABC-sorrenben. Vagyis...
- Alpari World Match Racing Tour. Kilenc kiemelt (Tour Card Holder) részvételére lehetett számítani, Björn Hansen (SWE) előtte azt mondta, aki jó eredményt ér el, az komoly lelki és pontbeli előnnyel várhatja a sorozat folytatását. Már csak azért is, mert bár a svéd állt az összetett verseny első helyén, de Pierre-Antoine Morvan (FRA) ugyanannyi ponttal rendelkezett a másodikon.
 Többen kezdtek magabiztosan, az első nap végén ketten is 3-0-ás mutatóval rendelkeztek, Peter Gilmour (AUS) állt az élen, neki 4-1 volt a mérlege.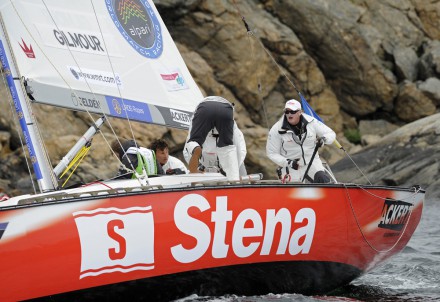 A második napon Björn Hansen (SWE) és Keith Swinton (AUS) már 5-0, Ian Williams (GBR) 5-1, a hazai játékos így nyilatkozott: szerintem a DS37-es a legjobb párosverseny hajó a világon. 40 csomós szélben is lehet vele vitorlázni, ami azért ritka. 1994-ben vívtam az első itteni regattám, szégyen lenne, ha nem tudnám kezelni.
Harmadnapra Hansen átmentette remek formáját, már 8-1 állt a neve mellett, a Williams-Gilmour-Swinton trió 7-2-n dekkolt együtt, és három győzelemmel pozitívba (5-4) fordította mérlegét Joachim Aschenbrenner (SWE), nyolcadik helyük esélyessé tette őket a negyeddöntőre. Ahol egy svéd-svéd kezdő csatában Hansen legyőzte Johnnie Berntsson-t, méghozzá 3-0-ra. Gilmour-Swinton 3-1, Williams-Morvan 3-0, Phil Robertson (NZL)-Reuben Corbett (NZL) 3-0. A Robertson-Gilmour és Hansen-Williams elődöntőkben 1-1-nél mentek aludni a csapatok.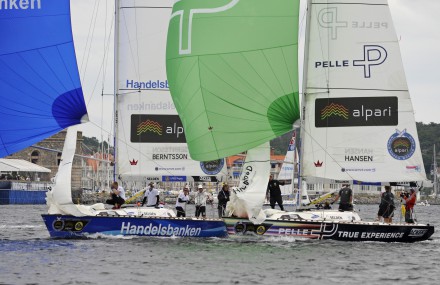 A záró napon az elődöntők végére: Gilmour-Robertson 3-1, Hansen-Williams 3-1. Jöhetett a meccs a bronzért: Williams-Robertson 2-1, végül a döntő. Ahol nem volt kegyelem, Peter Gilmour utólag, némileg filozofikus hangulatban ismerte el, hogy Hansen-nek jobb napja volt, mint neki: nem volt semmi különös hibánk. Csak az alapvető stratégiát rontottuk el, erőltettük a balra nyitást, és minden alkalommal egyre többel maradtunk le. 0-2-nél már nagy a nyomás az emberen, ő pedig szépen vitorlázott. A Hansen-Gilmour csata 3-0-jának következményeként előbbi örülhetett a versenyen elért sikernek, valamint az összetettben megnőtt előnyének.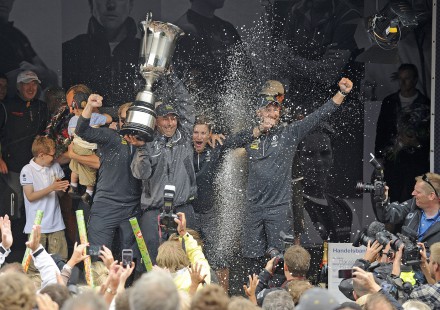 - Extreme Sailing Series, Act 4, Porto. Ha csak címszavakban nézzük át az eseményeket (és úgy fogjuk), már akkor is jut elég izgalom: minden idők legszűkebb pályája, az eddig legnagyobb nézősereg, ember a vízben (utána futamgyőzelem), számtalan ütközés (a Groupe Edmond de Rotschild kétszer is összetörte magát:a második napon sziklába verték a schvertjüket, a záró napon pedig balcsapáson ejtettek bele a The Wave-Muscat hajóba), így lecsúsztak a dobogóról. Leigh MacMillan és csapata 10 futamot nyert meg a 32(!)-ből, és egyáltalán, lenyűgöző formát mutattak, így a The Wave-Muscat megérdemelten nyert - idén zsinórban harmadszor.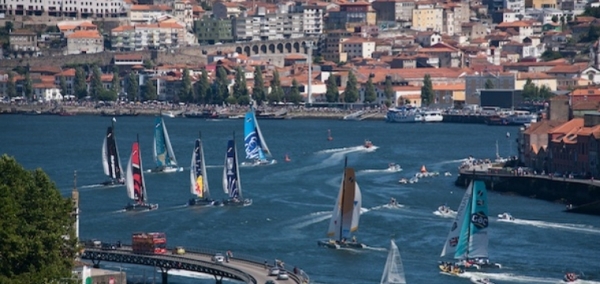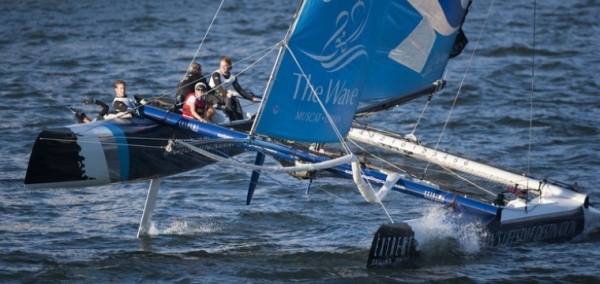 Végeredmény:
1. The Wave, Muscat (OMA) Leigh McMillan / Ed Smyth / Pete Greenhalgh / Hashim Al Rashdi / Bleddyn Mon 198 pont
2. Red Bull Sailing Team (AUT) Roman Hagara / Hans Peter Steinacher / Matthew Adams / Graeme Spence, Pierre Le Clainche 183
3. Oman Air (OMA) Morgan Larson / Will Howden / Charlie Ogletree / Nasser Al Mashari / Andy Maloney 156
4. Alinghi (SUI), Ernesto Bertarelli / Jean-Christophe Mourniac / Pierre Yves Jorand / Nils Frei / Yves Detrey 145
5. Groupe Edmond de Rothschild (FRA) Pierre Pennec / Arnaud Psarofaghis/ Hervé Cunningham / Bernard Labro / Romain Petit 137
6. SAP Extreme Sailing Team (DEN) Jes Gram‐Hansen / Rasmus Kostner / Pete Cumming / Mikkel Rossberg / Jonas Hviid 129
7. GAC Pindar (GBR) Andrew Walsh / Nick Rogers/ Mark Bulkeley / Adam Piggot / Jono Macbeth 126
8. ZouLou (FRA) Fred Le Peutrec / Philippe Mourniac / Jean-Sébastien Ponce / Bruno Jeanjean / Patrick Aucour 123

Extreme Sailing Series 2012 összetett, négy verseny után
1 The Wave, Muscat 39 pont
2 Red Bull Sailing Team 33
3 Oman Air Team 31
4 Groupe Edmond de Rothschild 31
5 GAC Pindar 22
6 Alinghi 18
7 SAP Extreme Sailing Team 18
8 ZouLou 16
 - La Solitaire du Figaro. Egyértelműen Yann Elies versenye volt, pedig akadt kihívó bőven.
A tizenharmadik versenyén induló francia grabancát jó eséllyel elkaphatta (volna) Morgan Lagraviére, Fabien Delahaye, Nicolas Lunven (2009 győztese), vagy Gildas Morvan (Cercle Vert), aki a második szakaszt nyerte. És úgy tűnt, át is adja nekik a lehetőséget, mert a harmadik szakasz rajtját követően csak a középmezőnyben vitorlázott, csak az első éjszaka kezdett felkapaszkodni, igaz, akkor mindjárt az első ötig. A szakasz (és a verseny) utolsó éjszakáján az élre kúszott, és vezető pozícióját keményen védte a nehéz körülmények (erős szél, tömött hajózási útvonalak) közepette. A 3 perc, 31 másodperc hátránnyal másodikként célba érő Lagraviére (a maga 25 évével) így nyilatkozott: bonyolult verseny volt, egyszer fent, másszor lent, mindenféle időjárási körülményektől sújtva. Most azt mondom, többet nem indulok a Solitaire-en. Túl kemény, nem tudom, lesz-e újra elegendő energiám.
 Harmadiknak Erwan Taberly (Nacarat) futott be, míg negyediknek Nicolas Lunven (Generali), aki így összetettben a bronznak örülhetett. Komplett eredménylista itt.
 - Volvo Ocean Race. Ugyan kissé kurtán-furcsán, de Facebook oldalunkon a magunk részéről lezártuk a nyolc hónapnyi történéssort, most álljanak itt a végső pontszámok:
Kikötői versenyek:
1. Puma 45 pont
2. Camper 44
3. Groupama 41
4. Abu Dhabi 37
5. Telefónica 27
6. Sanya 16

És a lényeg:
1. Groupama 253 pont
2. Camper 231
3. Puma 226
4. Telefónica 213
5. Abu Dhabi 131
6. Sanya 51.
Valamint Iker Martinez és Xabi Fernandez megkapta, ami jár neki.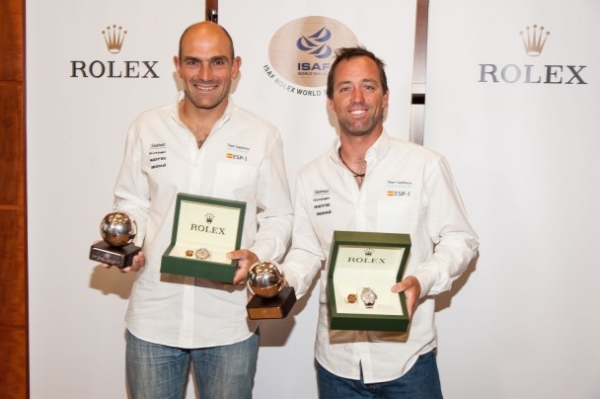 (fotó: 1-3: Rick Tomlinson; 4: Joao Ferrand; 5: Roy Riley; 6. lasolitaire.com; 7: Bernardo Paz)
(forrás: wmrt.com; extremesailingseries.com; lasolitaire.com; volvooceanrace.com)
A bejegyzés trackback címe:
A hozzászólások a vonatkozó jogszabályok értelmében felhasználói tartalomnak minősülnek, értük a szolgáltatás technikai üzemeltetője semmilyen felelősséget nem vállal, azokat nem ellenőrzi. Kifogás esetén forduljon a blog szerkesztőjéhez. Részletek a Felhasználási feltételekben és az adatvédelmi tájékoztatóban.