Eddig húsz induló ért célba a szóló földkerülő vitorlás versenyen, még heten jönnek, ebből ketten versenyen kívül.

Nyolcadszor rendezték meg a világ talán legkeményebb vitorlás versenyét, nyolcadszor születtek hősök. És egy legenda is...

Kitartás, jövök! - üzente Fa Nádor (Spirit of Hungary) még vasárnap (február 5.) mindenkinek, aki figyelemmel kísérte az útját. És jött. Szintén a vasárnap eseményeihez tartozott, hogy 18:16-kor - életében tizennegyedszer - Rich Wilson (Great American IV) átlépte az Egyenlítőt.  

... vagy a mesterlövészek. Vagy a törpék. Lényeg, a lényeg: már Louis Burton is "in the house"!

Olyan befutó várható az idei Vendée Globe-on, amire még sosem volt példa: az első kettőt mindössze 40 mérföld választja el egymástól, közben 400 mérföldön belülre kerültek az áhított céltól. Mindezt vastagon az eddig rekordidőn belül! Node idáig el is kellett jutni, nézzük, mi történt az elmúlt bő…

...már akinek, ugye. Armel le Cléac'h (Banque Populaire VIII) repesztett át elsőként, nem kevesebb, mint 760 tengeri mérföld előnnyel a második Alex Thomson (Hugo Boss) előtt. Ami ennél is komolyabb fegyvertény, az a rajttól odáig eltelt idő: 47 nap, 32 perc. Ez konkrétan 5 nap, 5 óra, 38 perccel…

Hat befutó után még messze a vége... a csütörtökről péntekre virradó éjjel az utolsó volt Dominique Wavre (Mirabaud) számára, az Atlanti-óceán pedig gondoskodott róla, hogy az időszak emlékezetes maradjon: ennek a Vendée Globe-nak az egyik legkeményebb éjszakája volt, 48…

Még egy olyan "egyszerű" hajón, mint a Team Plastique (ne feledjünk, a mezőny egyetlen fix tőkesúlyos darabja –iSail) is akadhatnak technikai gondok. Alessandro di Benedetto csütörtökön napközben jelentette, hogy jobb oldali kormányának felső tengelye…

Hétfőn jelentkeztünk utoljára összefoglalóval a témában, azóta sok minden változott, így például az egyszemélyes, egytestű 24 órás rekord, vagy épp a vezető személye. Folyamatosan nőtt a legnagyobb táv, az egymásra licitálásban Francois…

Akkor engedtük el a mezőnyt, amikor az élboly a déli félteke erősebb szeleibe érve elkezdett egyre tempósabban haladni. Szombatra virradóra gyors egymásutánban négy jelentés is érkezett 24 óra alatt megtett igen nagy távokról, végül Jean-Pierre Dick (Virbac Paprec 3) nyerte…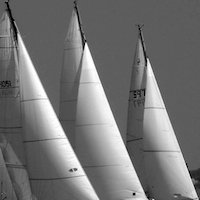 Az idei Cowes Week egyik fő attrakciója egy jótékonysági vitorlás verseny lesz, ahol a fődíj 10000 angol font, és azt a győztes hajó képviselte alapítvány kapja.   Időpont: augusztus 5. Versenyző hajóosztály: Open 60 Táv: mindössze 50 mérföld (meg kell kerülni Isle of…