A svéd EF cég két hajót indított az akkor még Whitbread Round the World nevet viselő Földkerülő versenyen. Az EF Language nyert, az EF Education pedig tisztán női legénységével hívta fel magára a figyelmet – helytállásuk igencsak figyelemre méltó volt. Az alábbiakban kivonatot olvashatsz Mark Chisnell könyvéből, mely Risk to Gain címmel jelent meg 1998-ban. A szöveg jó része nem a szerző munkája, hanem egyenesen a versenyzőktől érkezett: a Language részéről Magnus Olsson, míg az Education nevében Anna Drougge beszélt. Minket most utóbbi avat be egy hajnali szolgálatba, amit a trópusokon teljesített – ott, ahol elvileg alig történik valami…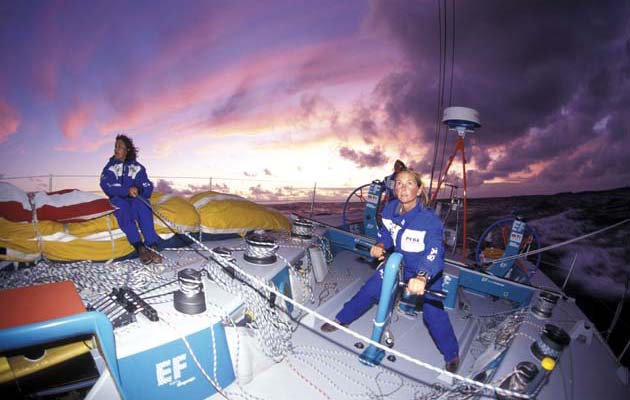 Könnyed érintés a vállamon. Gyorsan hátra fordultam, nyitott, de semmit sem látó szemekkel. "Tíz perc" mondta egy hang. A plafont bámultam, míg össze nem szedtem magam. Vízcsepp eredt meg az egyik csavar fejéről, majd az oldalfalon lecsúszva eltűnt a hajó mélye felé. A takaró izzadsággal telve tekeredett rám. Lecsavartam magamról, kicsúsztam az ágyból. A hajó enyhén billegve mozgott, a tenger nyugodt volt. A táskámból kitúrtam a még mindig nedves rövidgatyát és a pólót. Túloldalt, a szél felőli, magasabban lévő ágyon Leah üldögélt, maga elé meredve. Közös szolgálat várt ránk. Kerítettem egy palackot, megtöltöttem vízzel, aztán kimásztam a hajnali derengésbe. Napszemüvegemet azonnal a szemem elé csúsztattam, mert már így is elég világos volt. És szinte elviselhetetlen meleg, ami persze érthető, hiszen a víz hőmérséklete erősen közelítette a harminc fokot.
Katie a szél alatti csörlőnél ülve elmormogott egy Helló-t, szemei véreressége nyilvánvalóvá tette, hogy végig becsülettel bámulta a vitorlákat a sötétben:
- Hol a napkrém? - kérdeztem mindenkitől, de senki sem válaszolt. Tároló rekeszek lee-ben: kötelek, üres csokis papír, két üres vizespalack, egy nem működő fejlámpa. Luv-ban hasonló helyzet.
- Hol a napkrém? - ezúttal már kicsit hangosabban, a hajó tatja felé tartva, az arcokat vizsgálva. Melissa egy pillanatra levette a szemét a vitorla szálairól "hozzá se nyúltunk". "Sötét volt" mondta valaki, hangján gyilkos szarkazmus érződött. De nem zavart, mert közben megtaláltam, amit kerestem. Diadalittasan emeltem a fejem fölé, a többiek elmosolyodtak. A szél felőli oldalon végigdobtam magam a felstócolt vitorlákon, miközben bekentem magam. 06:00.
- Mi a helyzet, Katie?
- Három órája kicsit enyhült a szél, leheletnyit elfordult jobbra, úgyhogy az A3-ra váltottunk. Előkészítettük a spinakkert arra az esetre, ha tovább forogna. De azóta stabil, szépen visz minket előre.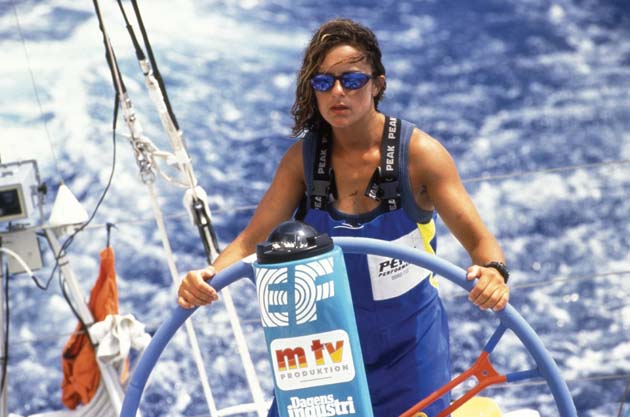 Végigfuttattam a tekintetem a vitorlán: a Code Zero (vagy ahogy akkoriban hívtuk, Szörnyeteg) új volt, az EF fejlesztette, a Language csapat használta először, elég meggyőző teljesítményt nyújtottak vele az első szakaszon. A többi szkipper lázadozott Fokvárosban, de a Zsűri szerint a vászon szabályos volt, úgyhogy onnantól a mezőny csak rohant utánuk vitorla-fronton. A trükk az volt a dologban, hogy bár spinakkerként lett felmérve, olyan szélszög-tartományban lehetett használni, mint a hagyományos orrvitorlákat. Csakhogy utóbbiakat rendszerint nem az árboc csúcsára húzza az ember, így az A3 komoly extra felülettel bírt, az pedig gyenge és közepes szélben számottevő sebességtöbbletet jelentett.
- Kicsit talán kijjebb engedném a behúzó-pontot – mondta Katie
- Magam is ezen gondolkodtam – a tathoz mentem, ahol a vitorla hátsó kötelét egy csörlőre tekertük. Az A3-at az árboccsúcson lévő spinakker felhúzóval juttattuk fel, az orrban rögzítettük az elejét, felhúzás és leszedés előtt feltekertük, másképp nem lehetett volna kezelni. Használat közben a spinakker schottja feszítette az alsó élét, az olyankor a szokásosnál előrébb vezetett hugó a hátsót.
- Most jobb?
- Határozottan – átvettem tőle a kötelet, a helyére ültem, a csörlő mellé. Egy szempillantás alatt eltűnt a hajó gyomrában. Hátul már Melissa állt a kormánynál, majd 08:00-kor mehet pihenni, Bridgettel és Kerynnel együtt. Addig Leah a luv oldalon kapta a tájékoztatót, Melissától.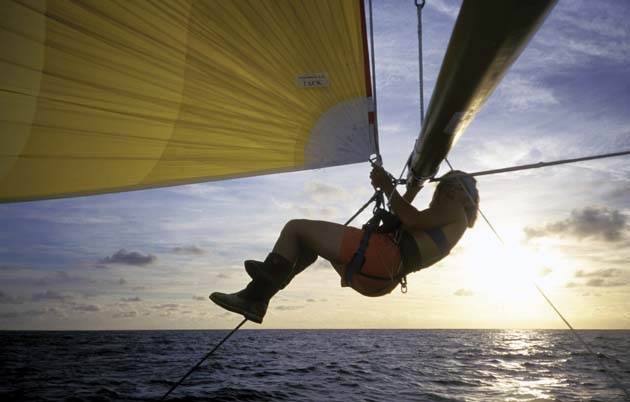 Bevettem egy rágót, még engedtem a kötélre, hallottam, hogy Keryn is így tesz a nagyvitorlával: az A3 akkora, hogy a grószt kell őhozzá állítani. A szél felment 13 csomóra, beesési szöge 110 fok környékén stabilizálódott. A reggeli őrségváltás rendben lezajlott.
- Delfinek! – kiáltott fel Leah pár perc múlva. Mire arra fordultam, már a kabinlejáró felé tartott. Ő készítette a fényképeket és videófelvételeket, ám akármennyi csodás állatot láttunk, Leah sosem bírta kihagyni a delfineket.
07:30-kor Bridget elosont mellettem, hogy megkezdje a reggelik sorát, különben semmi sem változott. Semmihez nem kellett nyúlnom. Ilyenkor belefért, hogy egy-két ember lemenjen enni. Kávénk nem volt, mert Sao Sebastiao-ban mindössze két nap állt rendelkezésünkre, hogy felkészítsük a hajót, a kávé elfelejtődött. Forró italunk nem lévén, rengeteg gázt spóroltunk meg. Más is hiányzott azonban. Az elégségesnél is kevesebb pihenéstől mindenki elcsigázottá vált. Ez a Doldrums-ig nem is jelentett problémát, ott azonban hiányzott a kellő koncentráció. Vagy csak pechünk volt. Akárhogy is, mindenkinél több rossz felhőt fogtunk ki, leszakadtunk a mezőnyről, arra is kicsi volt az esély, hogy bárkit utolérjünk, nemhogy leelőzzük. A vitorlázás néha kegyetlen. Amikor végeztem az evéssel, átvettem Leah helyét a kormánynál, ő pedig azokkal evett, akik épp a pihenőjükre készültek. Irigykedve bámultam Bridget, Keryn és Melissa trióját. De legalább én irányíthattam a hajót, ami mindenképp felüdülést jelentett az orrvitorla bámulása helyett. Amikor Leah visszatért, ő ült a helyemre, Marleen átvette a nagyvitorlát, Lisa csörlőzött neki, Joan mellettem ült. "Pöff" mondta néha olyankor finoman leejtettünk. A nagy csendben egyszer csak fura kérdéssel állt elő:
- Milyen nap van ma?
- Tessék? – néztem rá értetlenül
- Milyen nap van ma?
- Fogalmam sincs – közben lenéztem a sebességmérőre, amely szerint szemernyit sem lassultunk, ami őt bámultam. Talán kedd vagy szerda. Miért?
- Csak úgy. Eszembe jutott. Van rágód?
Találtam egyet a zsebemben, átnyújtottam. Onnantól megint csendben volt, amíg Lisa meg nem érintette a vállát, hogy menjen át a nagyvitorla csörlőjéhez. No nem mintha ott sok dolga lett volna: a szél fájó egyenletességgel fújt. A hajó egyensúlyban, víztartályok tele, vitorlák felpakolva, a tenger sima, az ég felhőtlen. Tökéletes idő.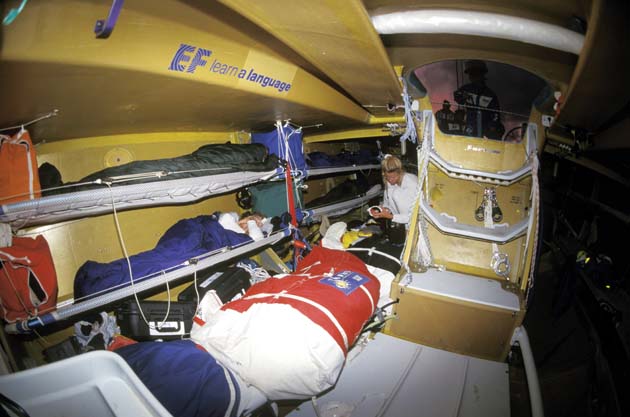 - Lehet, hogy erősödni fog a szél. Elő lehetne készíteni a schottokat a reacher-hez. Ha esetleg cserélni kell – állt elő az ötlettel Lisa, mellettem ülve.
- Én ennek nem látom jelét, nekem egyenletesnek tűnik – adtam hangot kétkedésemnek.
- Jó, csak biztosra akartam menni.
- Rendben – legalább van mit csinálni.
Elmozdult mellőlem, előre ment. Nem tartott sokáig, hogy végezzen. De egy órával később a szél enyhülni kezdett, tovább forogva jobbra.
- Ebből spinakker lesz – mondtam Leah-nak.
- Készítsem elő? – rám nézett, aztán a műszerekre, majd Lisa-ra.
Lisa bólintott, Joan bejött a hajó széléről, átvette a helyét. Tíz perc múlva a szél visszaállt oda, ahonnan elindult, cseréltem Leah-val, újra az orrvitorlánál ültem. Ránéztem az órámra, még két óra a megváltásig, a többiekhez fordultam "a pozíciójelentéseket megkaptuk már?"
Leah, a kormánynál állva, le sem vette a szemét az orrvitorla elejéről, úgy válaszolt "talán. Tényleg tudni akarod?" Kicsit állítottam az A3-on, hallottam, amint a nagyvitorla kezelője lereagálja a változást, egy tized csomót gyorsultunk. Visszanéztem Leah-ra "nem nagyon".
Lassan eltelt az utolsó óra. Katie tűnt fel a lejáróban, egyértelműen jelezve, hogy a szolgálat véget ért. Kilépett a fedélzetre, nyújtózkodott. Körbejáratta szemét a horizonton, mielőtt tekintete megállapodott volna a Code Zero-n:
- Ugyanaz a vitorla – inkább kijelentés volt, mint kérdés.
- Aham.
Megnézte az állításokat, ellenőrizte a műszereket:
- Ugyanaz az irány – megint egy állítás.
- És persze sehol egy hajó. A széllel mi van?
- Kicsit frissült, kicsit gyengült, de nagyjából állandó.
Még egyszer végigpásztázta a szemhatárt, csendben csodálta a kéken csillogó óceánt és felette a fehér felhőket.
- Attól ez még egy gyönyörű nap.
Ránéztem, mosolyogtam:
- Csak egy újabb nap az irodában.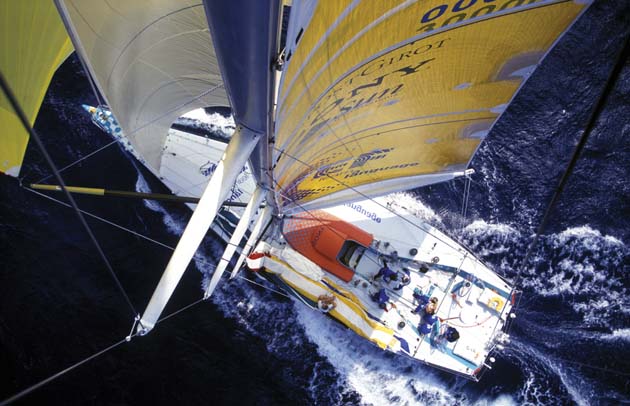 És akkor a komplett verseny hivatalos filmje - jelenetek nem csak a trópusokról.
fotók: EF Education
forrás: yachtingworld.com
A bejegyzés trackback címe:
A hozzászólások a vonatkozó jogszabályok értelmében felhasználói tartalomnak minősülnek, értük a szolgáltatás technikai üzemeltetője semmilyen felelősséget nem vállal, azokat nem ellenőrzi. Kifogás esetén forduljon a blog szerkesztőjéhez. Részletek a Felhasználási feltételekben és az adatvédelmi tájékoztatóban.