... vagy a mesterlövészek. Vagy a törpék. Lényeg, a lényeg: már Louis Burton is "in the house"!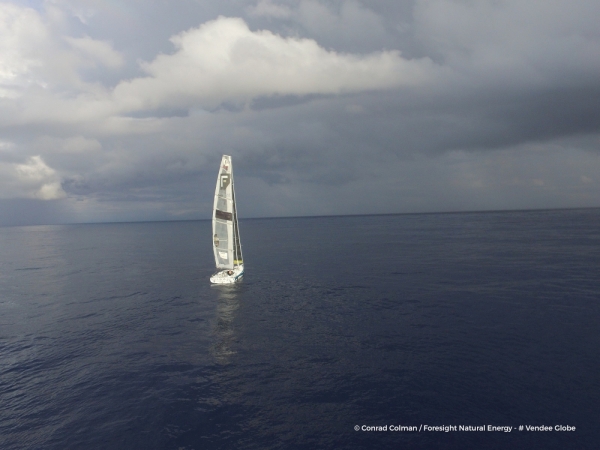 Szombat (január 28.): Conrad Colman (Foresight Natural Energy) lekeresztezte a saját, még a dél felé tartó úton húzott nyomvonalát, ezzel kvázi teljesítve a földkerülést: anyám mindig a "hogyan együnk meg egy elefántot?" kérdéssel jött, amikor annak idején a suliban megijesztett a házi feladat mennyisége. A válasz az, hogy "falatonként", és én ennek szellemében teljesítem most ezt a Vendée Globe-ot (a poén még teljesebbé válik, amikor eláruljuk, hogy Conrad vegetáriánus - iSail). Frissült a szél, már sok a Code Zero-hoz - mindez azonban csak tipp, mert a szélmérő műszereim már megint nem működnek. Ennek ellenére elégedett vagyok, jókat húzok mostanában, legutóbb épp tegnap éjjel. Salvador és Recife kipipálva, a kör "bezárultával" már csak egy Transat-nyi út vár rám.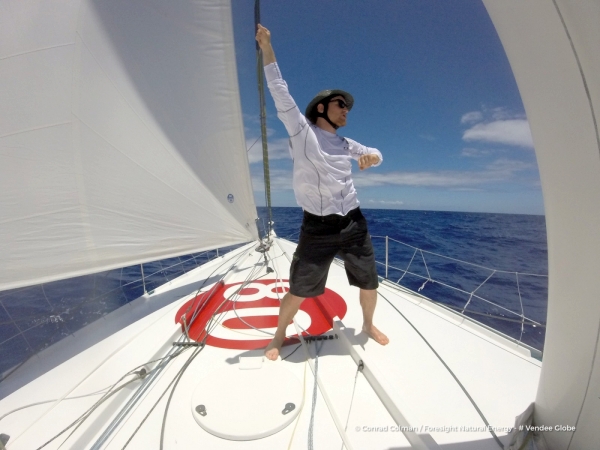 Vasárnap (január 29.): az éjszaka közepén Eric Bellion (CommeUnSeulHomme) átlépte az Egyenlítőt, reggel hatkor (UTC) Sébastien Destremau-ra (TechnoFirst - faceOcean) még várt 100 mérföld a Horn-fokig, aztán két halzolás és 25-30 csomós északnyugati szél Staten Island-ig. Eggyel előtte Pieter Heerema (No Way Back) 1000 mérföld előny birtokában a jéghatár mentén húzott keletnek. A harmincas szélesség környékén Romain Attanasio (Famille Mary-Étamine du Lys ) és Didac Costa (One Planet-One Ocean) lényegesen kellemesebb hőmérsékleti körülmények között ölte egymást, 3-4 mérföld távolságból. Együtt zárkóztak Rich Wilson-ra (Great American IV), aki már csak 200 mérfölddel járt előttük. Újabb 200 mérföld, és Alan Roura-t (La Fabrique) láthattuk, amit kiszabadult az anticiklonból, keleties passzátban osont el Cabo Frio előtt. Arnaud Boissiéres (La Mie Câline) előnyt tudott kovácsolni kreuzos teljesítményéből, 100 mérföldre ellépett Fabrice Amedeo-tól (Newrest-Matmut).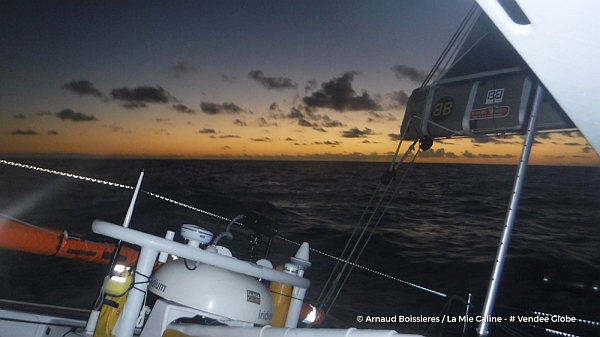 Fa Nándorra (Spirit of Hungary)  egy széles anticiklon várt, míg Louis Burton (Bureau Vallée) az Azori-szigetek között, délnyugati szélben hasított észak felé. 13:36-kor Destremau elérte a Horn-fokot, ezzel a mezőny utolsó tagjai is elhagyta a Déli-óceánt (37 nappal a végül első Armel le Cléac'h (Banque Populaire VIII után)): efféle vitorlázásban sosem volt részem. A Horn-fok sem lebegett a szemem előtt célként. Ilyesmit a nagyfiúk csinálnak, én viszont nem tartozom közéjük. Reggel 50 mérföldre voltam a foktól, alig akartam elhinni. Bizarr belegondolni, hogy Les Sables-ból idáig jutottam. Boldog vagyok, most pedig kezdődik a "mászás" felfelé.

D84 : Sebastien Destremau crosses the Cap Horn... by VendeeGlobeTV
Hétfő (január 30.): Burton 1000 mérföldön belülre került a célhoz képest, Colman pedig 08:45-kor átlépte az Egyenlítőt: az óceán időnként végtelennek és üresnek tűnik, de ahogy közeledem Európához, növekszik a forgalom a vízen. Hosszú utat tettem meg idáig, megküzdöttem mindennel, amit eddig Természet Anyánk rám mért, nem szeretnék emberi hiba miatt kudarcot vallani, úgyhogy folyamatosan figyelem a radart, gyakran nézek körbe. A korábbi párosokból már csak Costa és Attanasio maradt együtt, ők a huszonkilencedik déli szélességnél 5 csomóra lassultak, 24 óra alatt 140 mérföldet tettek meg.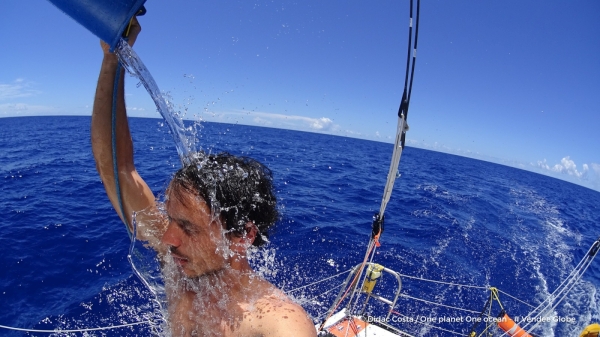 Kedd (január 31.): csendes éjszakája volt mindenkinek, függetlenül attól, hogy az észak-atlanti négyes vagy a dél-atlanti nyolcas csoportba tartozott. Louis Burton, egy alacsony nyomású zóna előtt menve 349 mérfölddel a mezőny leggyorsabbjának bizonyult, míg Costa és Attanasio a rövid gyufát húzva ugyanennyi idő alatt 100 mérföldet csorgott. Az előrejelzés szerint Burton-ra várt az addigi legkellemetlenebb átkelés a Vizcayai-öblön, 30 csomó fölé hízó széllel. Fa Nándorra a tervezettnél 24-30 órával több gyenge szélben vergődés várt, Eric Bellion kicsit nyugatabbra húzódott, mint az őt üldöző Colman. Utóbbinak nagyon kellett volna némi erősödés a kreuzban, lévén J2 fock hiányában a staysail + teljes grósz kombináció nem volt épp ideálisnak nevezhető, a staysail + egy reff közelebb lett volna az egyensúlyi állapothoz. Attanasio: zivatarokkal teli körzet felé tartok, nem egyszerű, ami ott vár rám, lehúztam egy reffet a nagyvitorlán. Didac-nak nem működik az AIS-e, így nem tudom pontosan, merre van, hogy látótávolságon kívülre került. Jó, hogy itt van a közelemben, tudunk néha csevegni. Nem rémlik, hogy találkoztunk volna a verseny előtt, de kezdjük megismerni egymást. Alan Roura: a Vendée Globe kivételes kaland. Nevetsz, sírsz, sokkal több időd van filozofálni, mint a szárazföldön. Jobban megismered magad.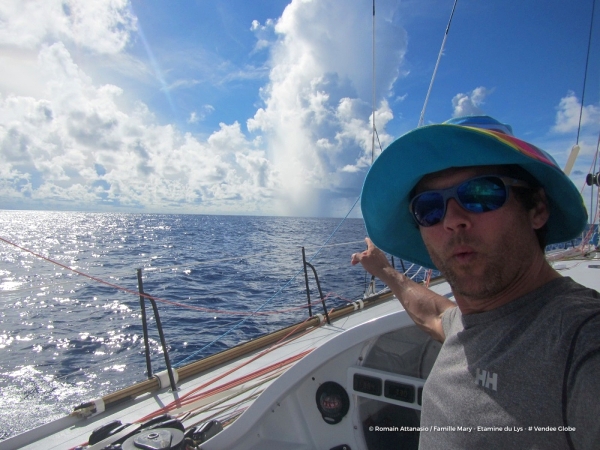 Szerda (február 1.): úgy tűnt, Fa Nádor kiszabadult az Azori magasnyomású övezet fogságából, tizenöt csomós délnyugati szélben tartott északnak. Eric Bellion már a Zöld-foki szigeteknél járt, 22-24 csomós északkeleti szélben cirkálva döngette a hajóját. Arnaud Boissiéres Fernando de Noronha magasságát elérve már igen közel járt ahhoz, hogy ő legyen a következő, aki átér az északi féltekére. Attanasio kissé elnyitott Costa mögül, aki tartotta magát az északi irányhoz, míg ellenfele több szélben reménykedve nyugatnak tartott. Pieter Herrema próbált mindent kihozni magából és a hajójából, mert két magas nyomású övezet között látszott egy átjáró, amin kiszökve megúszhatott egy hosszabb vergődést. Rich Wilson: lassú haladásunknak semmi köze holmi motivációs problémákhoz, egyszerűen az időjárás szórakozik velünk. Nincs szelünk, mi pedig nem tehetünk semmit ez ellen. Ilyenkor ráadásul több energiát égetünk, mint amikor fúj, ugyanis irgalmatlan erőkifejtést igényel fenntartani azt az egy-két-három csomós tempót. Arnaud Boissiéres: feltűnt a távolban egy vitorla, hívtam őket rádión. Kiderült, hogy egy Föld körüli úton lévő család. Kellemes délkeleti szélben haladok, de a felhők már mutatják, hogy közeledik a Doldrums. Naponta kétszer zuhanyzom a hajó orrában állva. Nemrég Fabrice még itt volt a közelemben, de elment nyugatnak, ott meg most kevesebb a szél. Valamennyit zárkóztam Conrad-hoz, ha kegyes lesz hozzám a Doldrums, még bármi megtörténhet. Ez komoly motivációs erő. Kilencven napra hoztam kaját, de az élettársam pakolt még, úgyhogy február 17-ig jó vagyok. 23:40-kor aztán megvolt a keresztezés.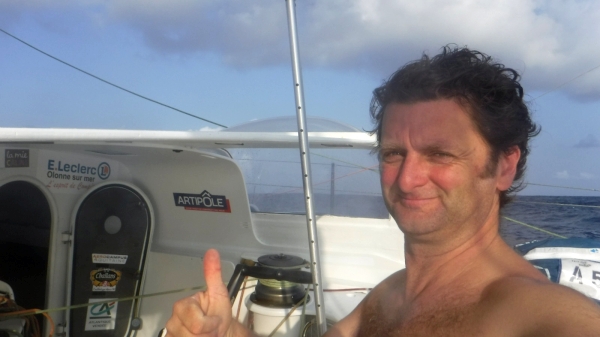 Csütörtök (február 2.): Fa Nándor Funchal vonalában, Bellion és Colman északkeleti passzátban, Roura Recifénél délkeletiben, Wilson 9 csomóval csorogva, Attanasio és Costa nyugat-keleti irányban széthúzódva, Heerema 19 csomós keletiben, Destremau a jéghatár közelében. Louis Burton pedig Ile de Ré-nél, 12 mérföldre a céltól. Aztán 7:47:49-kor Louis Burton (Bureau Vallée) teljesítette a Vendée Globe távját, hetedik helyen célba ért. Ideje 87 nap, 19 óra, 45 perc, 49 másodperc: más ember lettem. Tudom, milyen nehéz befejezni ezt a versenyt, keményen meg kell dolgozni érte. A rajt előtt nem mondtam ki egyszer sem, de kezdettől az volt a célom, hogy a lehető leggyorsabban érjek körbe. Mindent beleadtam, amíg el nem értem az Indiai-óceán közepéig, onnan jött másfél hónap a saját tempómban. Nem volt rajtam nyomás senki részéről, tudtam pihenni. Mert ezek a hajók kiszívják az utolsó csepp energiát is az emberből. Az időm jobb, mint amire számítottam.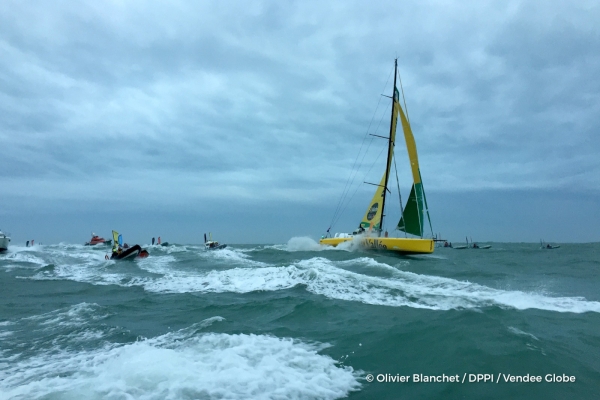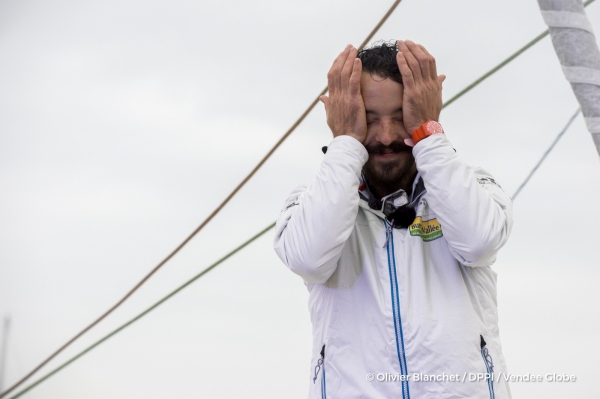 Péntek (február 3.): Eric Bellion kezdett beleérni abba, amiből Fa Nándor épp szabadult - igen az Azori-szigetek környékének változatos szeleibe. A mögötte haladó Colman ugyanakkor 17 csomóval zárkózott az északkeleti passzátban. Amedeo visszajött 43 mérföldre Boissiéres mögé, és még midig gyorsabb volt nála. 326 mérfölddel hátrébb Roura - senkitől sem zavartatva - tartotta tizenharmadik helyét, reggel nyolcvan mérföldje volt az Egyenlítőig (aztán 12:25-kor át is lépte). Wilsonnak hatszáz, míg Costa és Attanasio ismét összébb zárt, Heerema vergődött, még 300 mérföldet kellett legyűrnie a passzátövezetig, Destremau a Szent Heléna magas nyomású övezet nyugati oldalán siklatott.

D88 : Didac Costa into a squall / Vendée Globe by VendeeGlobeTV
Szombat (február 4.): Fa Nándor felült egy gyorsan haladó alacsony nyomású zóna elejére, 15 csomóval tartott célra. Bellion 10 csomó fölötti sebességet produkált, miközben kerülte az Azorit, Colman még mindig az északkeleti passzátban hasított, Boissiéres és Amedeo gyenge keletiben haladt, Roura a Doldrumsban még náluk is lassabb volt (7 csomó), Wilson 12 csomóval ment az Egyenlítő felé, Costa épp 22 mérfölddel jött Attanasio előtt, Heerema keletije kezdett stabillá válni, Destremau - 745 mérföldre délkeletre Buenos Aires-től - vergődött a magas nyomású övezetben. Estére Fa körül megváltozott a helyzet, olyan szélről számolt be, ahol a pöffök elérték a 48-50 csomót. Fabrice Amedeo: tegnap óta északkeleti szélben haladok, döng a hajó a kreuzban. Időnk a déli féltekén lejárt, oda lettek a repülő halak, már nem türkiz a tenger. Hazafelé tartunk, de nagyon úgy fest, hogy a bizonytalan időjárás miatt még később érünk célba, mint eddig gondoltuk.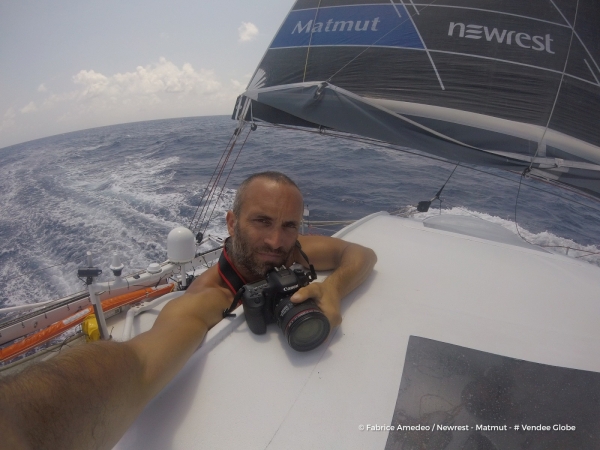 Vasárnap (február 5.): Fa Nándor átlépte a mágikus határt, 1000 mérföldön belül került a célhoz képest, 30-35 csomós dél-délnyugati szélben hasított Les Sables d'Olone felé. Eric Bellion szelídebb körülmények (15 csomós déli) között 11 csomóval bőszelezett, 450 mérföldre délnyugatra az Azori-szigetektől. Colman az Azri magas nyomású közepe felé tartva remélte, hogy hamarosan frissül a szele. Boissiéres és Amedeo egymástól 140 mérföldre kreuzolt, 20-25 csomós szélben, ami nem volt épp kellemes. Alan Roura szintén az északkeleti passzáttal utazott, de barátságosabb körülmények között. Rich Wilson az Egyenlítőt közelítette, enyhe délkeletiben. Didac Costa és Romain Attanasio 35 mérföldre széthúzódva, 23 mérföld különbséggel Recifét hagyta el éppen. Pieter Heerema Rio de Janeiro körzetében épp csak elérte a két számjegyű értékeket, ami hajója sebességét illeti, ahogy Sébastien Destremau sem rohant Argentínánál.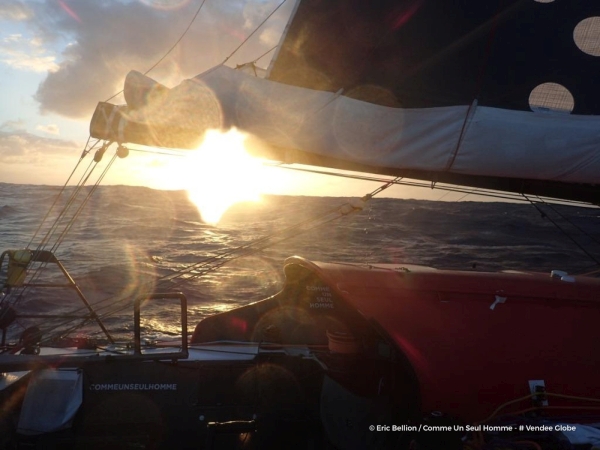 A dolgok jelen állás szerint tehát a következő célba érő Fa Nándor lesz, február 7-én.
Kövessetek bennünket Facebook-on, akadnak finomságok, amiket csak ott jelenítünk meg! És van még Twitter-oldalunk is…
fotók: Conrad Colman (1,2); Arnaud Boissiéres (3,6), Didac Costa; Romain Attanasio; Olivier Blanchet (7,8); Fabrice Amedeo; Eric Bellion / Vendée Globe
forrás: vendeeglobe.org
A bejegyzés trackback címe:
A hozzászólások a vonatkozó jogszabályok értelmében felhasználói tartalomnak minősülnek, értük a szolgáltatás technikai üzemeltetője semmilyen felelősséget nem vállal, azokat nem ellenőrzi. Kifogás esetén forduljon a blog szerkesztőjéhez. Részletek a Felhasználási feltételekben és az adatvédelmi tájékoztatóban.