Hat befutó után még messze a vége... a csütörtökről péntekre virradó éjjel az utolsó volt Dominique Wavre (Mirabaud) számára, az Atlanti-óceán pedig gondoskodott róla, hogy az időszak emlékezetes maradjon: ennek a Vendée Globe-nak az egyik legkeményebb éjszakája volt, 48 csomót is elérő pöffökkel.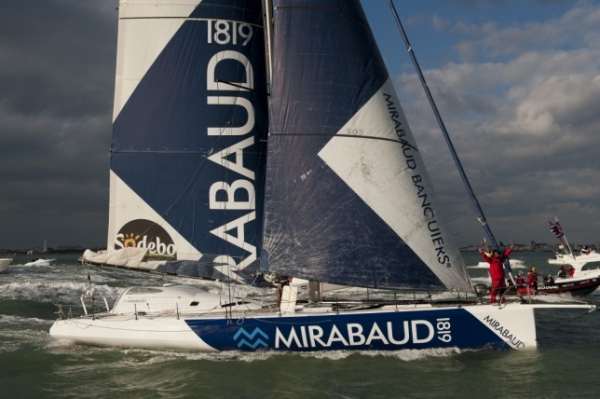 Normál esetben ilyenkor úgy állítjuk a hajót, hogy a legjobb szögben kapjuk a szelet, de itt a végén, arccal Les Sables d'Olonne felé nem maradt mozgásterem, félszélben kellett maradnom. Egyszer rám borult egy hullám, a hajó tíz métert zuhant szabadesésben - elképesztő volt. Reggelre 30 csomó környékére enyhült a szél, de a nagyvitorla továbbra is négy reffre húzva és csak a viharfock van fent. Nagyon fáradt vagyok, pihenek egy keveset, hogy friss legyek a befutóra. Már érzem a végét!
És az el is következett, pénteken 15:16:42-kor (UTC)-kor hetedik helyen ért célba. Versenyben töltött ideje 90 nap, 3 óra, 14 perc, 42 másodperc. Az elméleti pályahossznál (24394 tengeri mérföld) 3001,82 mérfölddel vitorlázott többet. Az 57 éves szkipper ezzel négy nekifutásból három Vendée Globe-ot teljesített, és nyolcadik(!) Földkerülő útját fejezte be: lehet, hogy csinálok még néhány őrültséget életemben, de nem hiszem, hogy lesz benne még egy kör. Volt pár, mindegyiknek megvoltak a maga nehézségei. Ez nem csak egy verseny, hanem életmód. Élet a tengeren, és 30 éve csinálom. Ittam egy palack bort, steak-et ettem sült krumplival, jól vagyok, köszönöm. Ám 90 nap a tengeren nem kis terhelés egy ilyen idős testnek. Erősnek, fittnek és motiváltnak kell lenned. Ha nincs meg az állóképesség a rajt előtt, akkor rémálom az egész verseny. Tudnod kell, mikor érsz a határra, majd onnan picit visszalépve nyomni tovább. Már csak azért is szükséges az önkontroll, hogy a tényleg feszült helyzetekben is tiszta fejjel dönthess. A legnagyobb gondom január 1-jén akadt: 25 csomós szél kontra 350 négyzetméter genakker. Az első sarka eleresztett, az árboc tetejénél lobogott az egész vitorla - persze mindezt sötétben, esőben, hullámos vízen. Ha nem vagy magadban, próbálkoztok, egyedül azonban ez egy komplett harc. Komoly küzdelem volt a vízből a fedélzetre rángatni, aztán három hétig nem fértem be a hajó azon részébe, ahol tároltam. Ez még a Horn-fok előtt volt, sokat vesztettem miatta. Amikor végre fel tudtam húzni, újra jó sebességgel haladtam.
Szombatra izgalom és újabb befutó is jutott, előbbit a SANTA TERESA konténerszállító biztosította Alessandro di Benedetto (Team Plastique) számára. Délelőtt küldött beszámolójában így írta le az eseményeket: épp most úsztam meg egy ütközést. Láttam a radaron egy bazi nagy hajót. Többször próbáltam VHF rádión hívni őket, semmi reakció, aztán egyszer csak kibukkantak a ködből tőlem jobbra. Ha mindenki megy tovább a maga útján, csattanunk. Nem voltak benne az AIS rendszerben, a VHF-en sem válaszoltak, kénytelen voltam felluvolni, hadd menjenek el előttem. Talán száz méterre lehettek, és elhaladás után sem szóltak bele a rádióba.
A távot teljesítők kapcsán párszor használtuk a hazaért kifejezést amolyan szinonimaként, de a nyolcadik helyre érkező Arnaud Boissiéres (Akena Verandas) esetében szó szerint értendő a dolog, lévén hajója és szponzora is Les Sables d'Olonne-i illetőségű. Délután negyed négy előtt nem sokkal futott be, ideje 91 nap, 2 óra, 9 perc, 2 másodperc. Ezzel zsinórban kétszer teljesítette a Vendée Globe-ot, amit rajta kívül mindössze hét versenyző mondhat el magáról: kiélveztem a befutó minden pillanatát. Minden nap lent vagyok a kikötőben, ez az én kis játszóterem. Szívet melengető ennyi embert itt látni. Már csak azért is örülök a hétvégi érkezésnek, mert így az Akena munkatársainak nagy részével is találkozhattam. 2011-ben, amikor kidőlt az árbocom, rengeteg üzenetet kaptam tőlük, felvidítottak. A Déli-óceánt különösen élveztem. Gyors voltam, alig várom, hogy négy év múlva újra ott álhassak a rajtvonalon - és ezt már az indulás előtt így éreztem. Az Atlanti-óceánon dél felé borzalmas volt. Mindjárt a Vizcayai-öböl után ott találtam magam Jean és Mike (Le Cam és Golding - iSail) között, elkezdtem kapkodni, hülyeségeket csinálni. Ezért értem később a Doldrums-ba, mint ők. Az övékétől eltérő útvonalat választottam, hátha, de az igazán rossz döntés volt. Sokat hibáztam. Talán a Horn-foknál volt a legjobb pillanat, amikor megelőztem az Acciona 100% EcoPowered-et, az jól esett.
Ha már szó esett Javier Sansó-ról: mihelyst lehetett, a spanyol szkipper és csapata elindultak a szerencsétlenül járt hajóért, amit péntek este nyolc körül meg is találtak. Szombat reggel a talpára állították, és Ponta Delgada felé kezdték vontatni.
A három, még versenyben lévő induló közül Tanguy De Lamotte (Initiatives-Coeur) befejezte a barkácsolást: két napig szereltem megállás nélkül, de aztán pihentem, ettem, majd visszatértem versenyző üzemmódba. Jól haladok, kellemesnek mondható az utam, annak ellenére, hogy az uszonyszekrénynél jön be a víz és a kormánylap sérült. Az anticiklon közepe az Azori-szigetek fölött van, úgyhogy megyek észak felé, hogy onnan kerüljem. Szép hosszú út lesz, ezáltal vagy 400 mérfölddel növelszik a táv, cserébe bőszélben haladhatok, ami nagyobb sebességet eredményez, és csökkenti annak esélyét, hogy szélcsendes övezetbe rohanjak.
Következő érkezőként Bertrand De Broc-ra (Votre Nom Autur du Monde with EDM Projets) lehetett számítani. Neki a mérföldeken kívül még egy ítélet is volt hátra. Február 5-re mindkét vízkészítője felmondta a szolgálatot, ő pedig úgy kalkulált, hogy még körülbelül hét napja van hátra a versenyből. Értesítette a Rendezőséget, valamint a Zsűrit, hogy 5 liter ivóvize maradt, engedélyt kért, hogy a két vésztartalék kanna egyikét megbonthassa. Pár órával később újabb értesítést küldött, melyben tudatta, hogy már túl is esett a dolgon. A Zsűri úgy értékelt, hogy a két tartály csak túlélésre használható ("for survival situation"), ám a francia szkipper nem ilyenben volt, és 12 órás időbüntetéssel sújtotta. Tekintettel a hátralévő kis távra és a környék intenzív hajóforgalmára annyi engedményt tettek, hogy ezt nem a vízen kellett letöltenie, hanem futott idejéhez tervezték hozzáadni. Így is lett, a vasárnap délután befutó hajós (17:12:14 UTC) kilencedik helye mellett - 92 nap, 5 óra, 10 perc, 14 másodperc helyett - 92 nap, 17 óra, 10 perc, 14 másodperc szerepel.
Nem volt épp barátságos az idő, amikor megérkezett:

Les meilleurs moments de l'arrivée de Bertrand... by VendeeGlobeTV
2012 februárjában kezdett kampányának komoly sikere ez az eredmény, egyrészt az idő rövidsége, másrészt a két kudarcos kísérlet után harmadjára végre elért célvonal okán. Hab a tortán, hogy három nappal gyorsabban vitte körbe a hajót, mint Armel Le Cléac'h négy évvel ezelőtt (akkor az a teljesítmény a második helyre volt jó). Versenyét nem könnyítette meg a rajt előtti kis incidens, ami miatt pont mindig lemaradt a kedvező időjárási körülményekről, az előtte haladók folyamatosan távolodtak tőle.
Tavaly január 21-én egy házibuliban vetette fel valaki a Votre Nom Autour du Monde - projekt [szabad fordításban: Nevetek a Föld körül - iSail] ötletét, akkor vásároltam meg a Brit'Air-t.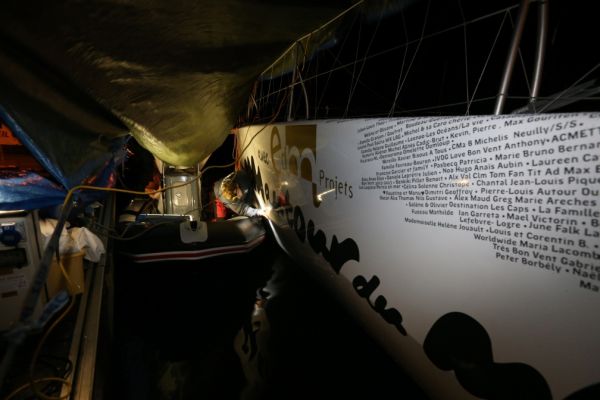 Január 23-án egy sajtótájékoztatón jelentettem be, hogy indulok a versenyen, aztán volt rengeteg megbeszélésem, most meg itt vagyok. 1997-ben felborultam, akkor Yves Parlier hajóján fejeztem be a versenyt. Felajánlotta, hogy tartsak vele a csatornán behajózáskor. Elfogadtam, de hát nem ugyanaz. Ám nem emiatt indultam a Vendée Globe-on, sokkal inkább a kihívás miatt. Mert ez nekem erről szól. Itt nem csak annyi történik, hogy gyorsan körbevitorlázza az ember a Földet. Vigyázni kell a hajóra, fenntartani a jókedvet. Volt egy alapvetésem: Indulás Les Sabled d'Olonne-ból és visszaérkezés Les Sables d'Olonne-ba. Megcsináltuk. Enyém a tizenharmadik leggyorsab idő a Föld körül (a Vendée Globe-on belül a tizenegyedik). Ez azért valami. Sok emlékezetes pillanata volt ennek az időszaknak, a legszebb a Jóreménység foka után nem sokkal esett meg. Kiléptem a fedélzetre, körbenéztem, és rengeteg delfint láttam. Nem 20-30-at, mint általában, hanem vagy ezret. Sajnos nem volt benne a memóriakártya a fényképezőgépben, úgyhogy videót készítettem. Ha meglesz belőle a vágott anyag, szétküldöm a támogatóimnak.
Cikkünk írásakor Tanguy De Lamotte az Azori-szigetek nyugati oldalán takkolgatott az anticiklon szélén: megfelelő szelem van, kicsit erősebb, mint vártam, viszont az előrejelzésnek megfelelően dél felé forog, így én is kelet felé fordíthatom a hajó orrát. A rossz hír az, hogy a második elektromos fenékvízpumpa is megadta magát, a jó pedig az, hogy fel tudtam húzni a vízből a sérült kormánylapot, mivel jobbcsapáson haladok. Múlt éjjel láttam pár kondencsíkot az égen, érzem, hogy közeledem a civilizációhoz. Belegondoltam, mennyire nem tudják értékelni az emberek a leküzdött távolságokat. Körülbelül hat nap múlva érek célba, és bár most nem úgy tűnik, mitha közeledne a befutó, de élvezem a versenyt. Az utolsó kajás dobozt is megnyitottam, egy hétnyi adag van benne, maradt még három napnyi szárított étel, úgyhogy ilyentekintetben rendben leszek.
Egy pár napja feltöltött videóból képet kaphatunk, mennyire nem volt egyszerű dolga a kormánnyal:
Alessandro di Bendetto 700 mérfölddel Tanguy mögött jött, a kereskedelmi szeleknek köszönhetően az utóbbi napokban mindig 300 mérföld fölött teljesített, de még így is bő 2200 mérföld várt rá Les Sables d'Olonne-ig
Ez pedig egy kisebb - beszédes című - válogatás a Bernard Stamm-ot (Cheminée Poujoulat) ért megpróbáltatásokból:
Továbbra is rendszeresen frissül Vendée Globe életképek albumunk!
(fotó: 1: Olivier Blanchet; 2: Jean-Marie Liot)
(forrás: vendeeglobe.org)
A bejegyzés trackback címe:
A hozzászólások a vonatkozó jogszabályok értelmében felhasználói tartalomnak minősülnek, értük a szolgáltatás technikai üzemeltetője semmilyen felelősséget nem vállal, azokat nem ellenőrzi. Kifogás esetén forduljon a blog szerkesztőjéhez. Részletek a Felhasználási feltételekben és az adatvédelmi tájékoztatóban.