Jean Le Cam (SynerCiel), hétfő délután, ötödik helyen, 1879 mérfölddel lemaradva a vezető Gabart-tól (MACIF): az anticiklon kettévált, ha ott ragadsz,hát finoman szólva bonyolult a helyzeted. Egyik pillanatban szélcsend, a következőben fúj, mint a fene - és a váltás nagyon gyors. Múlt éjjel nem volt szelem, ráadásul az áramlat ellenem dolgozott, így alig haladtam.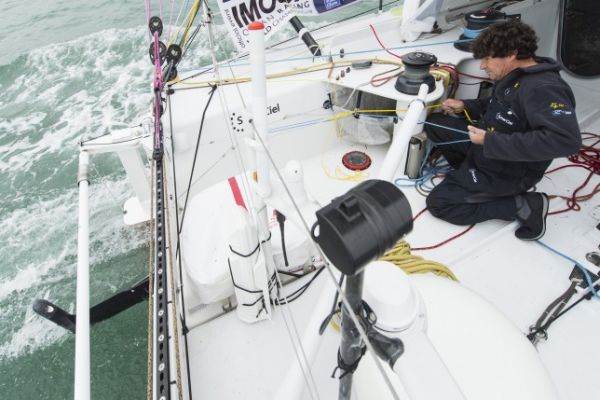 Jean-Pierre Dick (Virbac Paprec 3): őrület, ami itt megy, az erős szél szanaszét rázza a hajót. A pillanatnyi sebességem 18,8 csomó, ami igen jó, és én minden percben azon vagyok, hogy a lehető leggyorsabb legyek. Mozgalmas éjszakám volt, szakadt az eső, ami miatt végig a fedélzeten kellett lennem, és nem csak alibiből. 30 csomóig is felmegy a szél, de nekem az a legfontosabb, hogy a többieknél jobban teljesítsek, akkor talán zárkózhatok az előttem haladókhoz.
Arnaud Boissiéres (Akena Verandas): drasztikusan megváltoztak a körülmények pár nappal ezelőtthöz képest. A tenger nyugodt, az ég kék, 15 csomós szél fúj. Észak felé haladunk, holnapra kemény időt jósolnak, de amúgy minden rendben. A mi kis hármasunk (Dominique Wavre - Mirabaud és Javier Sansó - Acciona 100% EcoPowered van a közelében - iSail) tegnap taktikai döntést hozott, amikor a "kelet vagy nem kelet?" kérdést kellett megválaszolni. Most észak az irány, és elég kockázatos lenne itthagyni őket. Próbálok minél gyorsabb lenni. Akkor ugyan én állok be először a szélcsendes zónába, de ki is én keveredek belőle először!
Kora estére Mike Golding (Gamesa) addigi lendületes haladásának - és Le Cam lassúságának - köszönhetően már csak 21 mérfölddel volt lemaradva. El is kezdett spekulálni: azon jár az agyam, miféle problémája lehet, tán épp az egyik vitorlájával van valami. Nem szokott lassú lenni, kétlem, hogy társaságomra vágyna, és ezért bevárna. De van ennél nagyobb gond is, az időjárás a valóságban még véletlenül sem olyan, mint amilyennek a meteorológusok szerint lennie kéne, így az előrejelzésnek is nehéz hinni - kicsit olyan, mintha orosz ruletteznénk.
Armel Le Cléac'h (Banque Populaire): mindent megteszek, hogy utolérjem Francois-t (ez Gabart lenne - iSail), de a körülményektől függ minden. Lássuk meg, mivel kell szembe néznie a közeljövőben! És biztosak lehettek benne, hogy az utolsó pillanatig küzdeni fogok.
Francois Gabart: azért kedvező a helyzetem, mert én kaptam meg elsőként a jó szelet, ami az elmúlt napokban végig engem segített. De lassan a Banque Populaire is beleér, és akkor elkezd zárkózni. Velem egyébként minden rendben. Ha panaszkodni akarnék, mondanám, hogy melegem van, de ezt nagyon sokan nem hallanák szívesen.
Alex Thomson (Hugo Boss) eddigi szerencséje megfordult, a part mentén lassulni kezdett, kezdett lemaradni Jean-Pierre Dick-hez képest. Dominique Wavre pedig próbálta maga mögött tartani frissen kapott útitársait, akik nem könnyítették meg a dolgát: Sansó kelet, míg Boissiéres nyugat felől igyekezett elé kerülni. És estére előbbi meg is csípte a hetedik helyet, miközben a trió tagjai szétfelé haladtak. Amiképpen Golding és Le Cam is, előbbi kelet, utóbbi nyugat felé próbált kikeveredni a szélcsendes zónából. Estére (19:02 UTC) Bertrand De Broc (Votre Nom Autour du Monde) elérte a Horn-fok hosszúsági körét, nagyban meghálálva ezzel annak a 4000 magánembernek a közreműködését, akik egyéni hozzájárulásaikkal segítették projektje létrejöttét.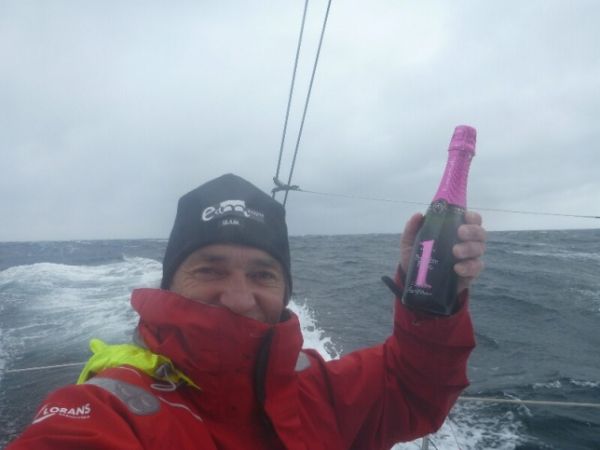 Day 66 highlights by VendeeGlobeTV
Tanguy De Lamotte (Initiatives Coeur) kedden hajnalban (05:03 UTC), tizenegyedikként ért oda, magára hagyva ezzel Alessandro di Benedetto-t (Team Plastique) a Csendes-óceánon. A reggeli pozíciójelentésből kiderült, hogy Mike Golding megelőzte Jean Le Cam-ot, amiben nem feltétlenül a brit 9,8 csomós éjszakai átlaga, sokkal inkább a francia 6,3-as toporgása játszott szerepet - de hát oldalt választani tudni kell! És úgy néz ki, hogy az Javier Sansó-nak is egész jól sikerült, mert Golding-hoz hasonlóan ő is kelet felé tartott, maga mögé utasítva Wavre-t és Boissiéres-t egyaránt. Beszédesek az éjszakai sebességi mutatók: 14,3 - 7,6 - 4,9. Armel Le Cléac'h 26 mérföldet hozott Francois Gabart-on, és az előrejelzés szerint további közeledés volt várható, lévén az éllovas ifjonc Brazília partjai előtt gyengébb szelekben haladt, mint a Sakál. Jean-Pierre Dick a bronzos helyen hozta a legjobb 24 órát 383,1 mérfölddel. A teljesítmény nyugat felé tekintve is szemléletessé vált, a korábban a harmadik pozícióba belekóstoló Alex Thomson hátránya immár 187 mérföldre nőtt.
Alessandro di Benedetto: nem vagyok veszélyben. Elszállt a genakker felhúzója, de amilyen idő most van, hát esélytelen felmászni az árbocra. Maradnak az egyéb vitorlák, de ez nyilván meg fog látszani a sebességemen. A legfontosabb most az, hogy én rendben vagyok. Ja, és az orrsudarat is elveszthettem volna! Körülbelül négy nap múlva érem el a Horn-fokot.
Nos, igen, az bizony ott a genakker: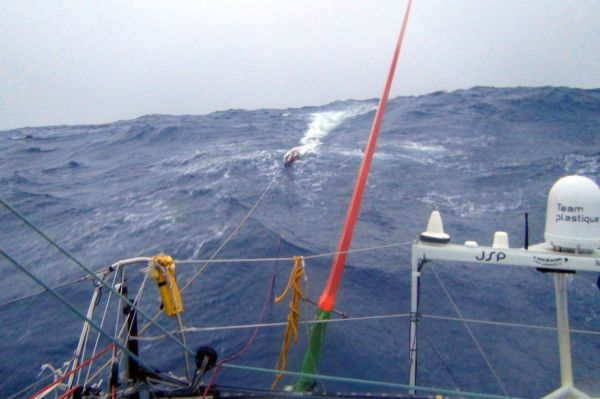 És itt még messze nem volt vége, Francois Gabart például a Les Sables D'Olonne - Egyenlítő (persze már visszafelé) útvonal eddig rekordját adta át a múltnak. Ennek köszönhetően azonnal megindult a spekuláció, vajon mennyit farag majd a győztes az eddig VG-szintből. Mert afelől senkinek sincs kétsége, hogy - hacsak valami szörnyű csapás nem sújtja az élmezőnyt - itt bizony új magasságokba emelkedünk, ráadásul négy hajónak is van esélye 80 nap alá menni. A jóslatok a mostani 84 napot hétfőn 77-re, kedden 78-79-re jelezték. Denis Horeau, versenyigazgató: a 77 nap már csak azért is különleges lenne, mert ennyit a többtestűek tudtak 15 éve.
Lévén Gabart már majdnem a Doldrums-ban hajózik, szignifikánsan lassult korábbi tempójához képest, így aztán Armel Le Cléac'h hozott rajta 69 mérföldet 24 óra alatt. Jean-Pierre Dick pedig megint a leggyorsabb volt (381 mérföld), de Le Cléac'h VMG-je már megint jobb lett az övénél. A széthúzódó középmezőnyben most épp a nyugatiak örülhettek, Le Cam visszaelőzte Golding-ot, Arnaud Boissiéres pedig mind Dominique Wavre-nál, mind Javier Sansó-nál gyorsabb volt (7,6 csomó 4,6-hez és 4,4-hez képest), viszont mivel hajója orra Uruguay felé állt, hát csak 1,1-es VMG-t produkált. A meteorológiai térkép 13 csomós délkeleti szelet mutatott Golding-nál, de mint azt fentebb az angol kifejtette, nem nagyon lehet hinni az előre jelzett adatoknak.
Jean-Pierre Dick: naná, hogy megpróbálom elkapni Francois-t és Armel-t! De nem lesz könnyű dolgom, mert nagyon gyorsak. Két komolyabb lehetőség adódhat a közeljövőben, az első a Doldrums lesz, ha szerencsém van, lassabbak lesznek nálam. Aztán jön az Atlanti-óceán északi része, ahol az Azori-szigeteknél elhelyezkedő magasnyomású övezet (Azores High) nyit teret a trükközésre, hiszen lehet menni kelet vagy nyugat felé, esetleg egyenesen átvágni rajta. Armel közelebb van a maga 400 mérföldjével, ami azért jobban hangzik, mint Francois 680-ja. És ott van még Alex Thomson is, nincs túl messze, a nyugati pozíciója pedig ki tudja, mire lehet jó.

Day 67 highlights by VendeeGlobeTV
Armel Le Cléac'h szerda hajnalban (04:47 UTC) hajózott át az északi féltekére, 15 órával és 6 perccel Gabart után. És bár ő is lassult, ahogy az övezetbe ért, még mindig jobb 24 órát produkált, mint fő ellenfele.
Mike Golding: meglehetősen bíztató előrejelzést kaptam, annak megfelelően választottam vitorlát, de kicsit több szél érkezett a vártnál, úgyhogy most a Solent mögött két reffre húzott grósszal haladok. Biztos vagyok benne ugyanakkor, hogy ez egy rövid átmeneti állapot, és a helyzet hamarosan normalizálódik. Különben is, a pozícióm jó, a tervezett útvonalam megfelelőnek tűnik. Kicsit megyek még kifelé, Jean be fog szorulni a partnál, én pedig a csapásváltást követően begyújtom a rakétákat. Ha mégsem így lesz, még mindig marad elég előnyöm a mögöttem jövőkhöz képest.
A legjobb 24 órát ismét Jean-Pierre Dick (ki más?) tudhatta maga mögött, 391 mérföldje arra volt jó, hogy 100 mérföldet hozzon Gabart-on, illetve 290-re növelje előnyét Alex Thomson-hoz képest. Armel Le Cléac'h-hez nem került közelebb, mert a Banque Populaire hasonló körülmények között haladt.
Javier Sansó: elméletileg lett volna átjáróm az előttem elterülő gyenge szeles zónán keresztül, gyakorlatilag azonban esélyt sem kaptam a sorstól. De legalább meleg az idő, úgyhogy kirámoltam a fedélzetre az összes vizes ruhámat. És persze folyamatosan ellenőrzöm a hajót, főleg azokat a részeit, amelyeknél fennáll a veszély, hogy jobban elhasználódtak. Egyes elemek kezdenek leharcoltnak kinézni, rájuk fér a csere - de ebben semmi meglepő nincs 66 nap versenyzés után. Az Akena Verandas és a Mirabaud most már nagyon messze van tőlem, de amilyen bizonytalan az időjárás, bejöhet nekik a part közeli menet.
Alex Thomson: az előrejelzés szerint az előttem haladókéinál lényegesen kedvezőbb körülmények között tudok majd átvágni a Doldrums-on, de hallottunk már ilyesmit, úgyhogy csak várjuk ki szépen, mi lesz belőle. Két napon belül elérem az övezetet, aztán kreuz következik.
Arnaud Boissiéres: 15 csomós stabil keleti szélben haladok észak felé, csak kicsit rázkódom a hullámokon, mondhatjuk, hogy kellemes a dolog. Próbáltam bizonságos útvonalat választani, mert lehetetlen kiigazodni az előrejelzések között - pláne, hogy még közük sincs a valósághoz. Ez ugyan gyenge szeles övezetekben megszokott, de nehézzé teszi a taktika megalkotását. Két nappal ezelőtt 29 napra elég kajám volt még, a vízkészítőm továbbra is hiba nélkül működik, meg van itt két karton palackozott víz, amire a hidratálás miatt szükség is lesz.
Csütörtök reggel leginkább Alex Thomson örülhetett, mivel neki volt a legjobb 24 órás teljesítménye, 17 csomós éjszakai átlaga már a frissülő kereskedelmi szeleknek köszönhető, amik a következő 24 órában további frissüléssel kecsegtettek. Az élen Le Cléac'h 80 mérfölddel haladt Gabart mögött, mindketten 10 csomó alatti sebességet produkáltak az éjjel, viszont lassan kikerülnek a Doldrums-ból. Kérdés, hogy ez megváltás lesz-e nekik, mert kelet-északkeleti szél vár rájuk. Jean-Pierre Dick tovább zárkózott a vezető kettőshöz, de még mindig 436 mérfölddel le volt maradva Gabart-hoz képest. A középmezőny ötös csoportja láthatólag egészen másféle elméleteket gyártott a haladásra: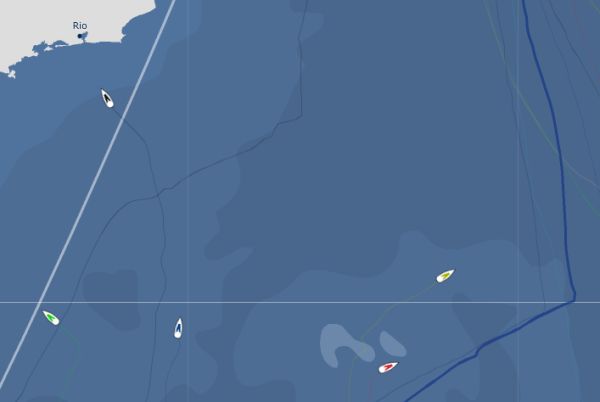 A hátsó szekcióban Bertrand De Broc és Tanguy De Lamotte 25 csomós délkeleti szélben élvezkedett, és menetelt észak felé. A még mindig a Csendes-óceánon haladó Alessandro di Benedetto hasonló körülmények között hajózott, 240 mérföldre a Horn-foktól: lehet, hogy a tervezettnél korábban (jelenlegi állás szerint január 17-én európai idő szerint este nyolc körül) érek a fokhoz, mert erősödik a szél, és a genakker hiányának ellenére elég gyorsan haladok.

Day 68 highlights by VendeeGlobeTV
Zárásként egy újabb mérföldkő: továbbra is a harmadik helyen vitorlázva, az éllovas Gabart-hoz képest 414,5 mérföldes hátránnyal Jean Pierre Dick 10:02-kor (UTC) átlépte az Egyenlítőt.
Van ám folyamatosan frissülő fotógalériánk, mégpedig itten.
(fotó: 1: Vincent Curutchet; 2: Bertrand De Broc; 3: Alessandro di Benedetto)
(forrás: vendeeglobe.org)
A bejegyzés trackback címe:
A hozzászólások a vonatkozó jogszabályok értelmében felhasználói tartalomnak minősülnek, értük a szolgáltatás technikai üzemeltetője semmilyen felelősséget nem vállal, azokat nem ellenőrzi. Kifogás esetén forduljon a blog szerkesztőjéhez. Részletek a Felhasználási feltételekben és az adatvédelmi tájékoztatóban.