TP52, Melges32.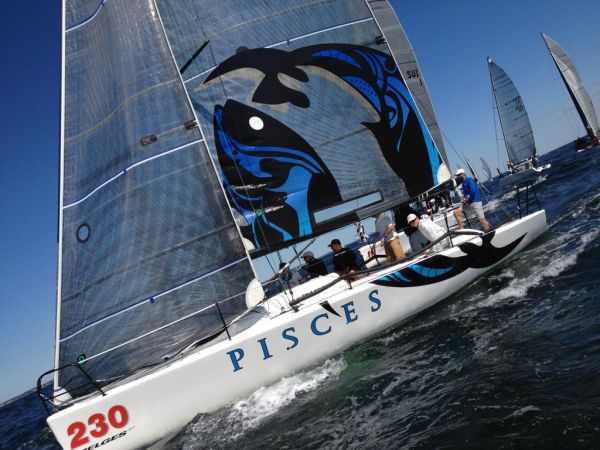 - Mostanában csak úgy nevezik magukat: a legszínvonalasabb egytestű versenysorozat (the most competitive monohull racing circuit), amiben lehet valami, bár a legutóbbi regattájukon (Audi Valencia Cup) mindössze öten álltak rajthoz. Ettől még persze a sorozat az sorozat és a győztes is győztes. Ez pedig nem más, mint az Audi Azzurra Sailing Team, második a szintén Audi-támogatott All4ONE, míg harmadik a tulajdonos-kormányossal felálló RÁN. Az olaszok ezzel az lenti képen látható díjat gyűjtötték be.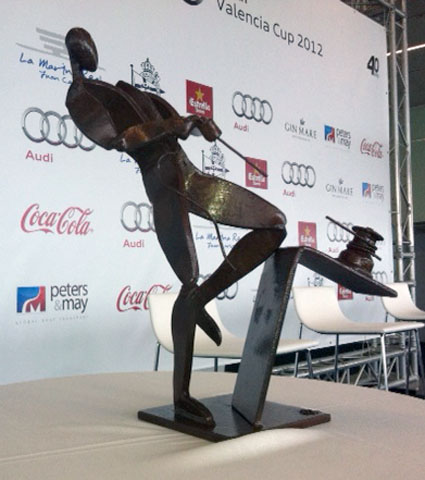 Az Azzurra győzelmével egyébként az idei összetettet is megnyerte, második a Quantum Racing, harmadik a RÁN.
Audi Valencia Cup
1. Audi Azzurra Sailing Team, 15 pont
2. Audi Sailing Team powered by All4One, 22
3. RÁN, 25
4. Quantum Racing, 26
5. Gladiator, 32
52 Super Series végeredmény
1. Audi Azzurra Sailing Team, ITA 74.5
2. Quantum Racing, USA, 79.5
3. RÁN Racing, SWE, 94.5
4. Gladiator, GBR, 125
5. Audi Sailing Team powered by All4One, GER, 132.5
 És nem pazarolták az időt, már kialakították a jövő évi menetrendjüket is:
52 Super Series 2013
Január 20-25. - Quantum Key West Race Week
Március 5-9. - 52 Világbajnokság, Miami
Május 23-25.- 40. Trofeo Conde de Godo, RCNB, Barcelona
Július 3-6. - Royal Cup, Ibiza
Július 29.- Augusztus 3. - Copa del Rey, RCNP, Palma Mallorca
Szeptember 10-14. - Audi Week of the Straits, YCCS, Porto Cervo
 - Na, Newport-ban aztán nem lehet ok panaszra, ami a létszámot illeti: harmincnégy (34!) egység gyűlt össze a szeptember 20-ától 29-éig terjedő időszakra, hogy előversenyen majd világbajnokságon mérje össze tudását. A korábban tárgyalt Farr40-esekhez hasonlóan itt is érdemes végigböngészni a taktikusok névsorát, mert ismerős nevekbe botolhatunk. Csak néhány példa, a teljesség igénye nélkül:
Vasco Vascotto (ő épp most nyert az Azzurra-val - lásd fentebb)
(fotók: 1: melges32 blog; 2: TP52 osztály)
(forrás: ScuttleButt)
A bejegyzés trackback címe:
A hozzászólások a vonatkozó jogszabályok értelmében felhasználói tartalomnak minősülnek, értük a szolgáltatás technikai üzemeltetője semmilyen felelősséget nem vállal, azokat nem ellenőrzi. Kifogás esetén forduljon a blog szerkesztőjéhez. Részletek a Felhasználási feltételekben és az adatvédelmi tájékoztatóban.