Most aztán tényleg sokat ugrunk vissza az időben. Február 29-én kezdődött a The Telegraph sorozata (legalábbis ezt az írást akkor jelentették meg). És kezdtek az Abu Dhabi Racing szkipperével.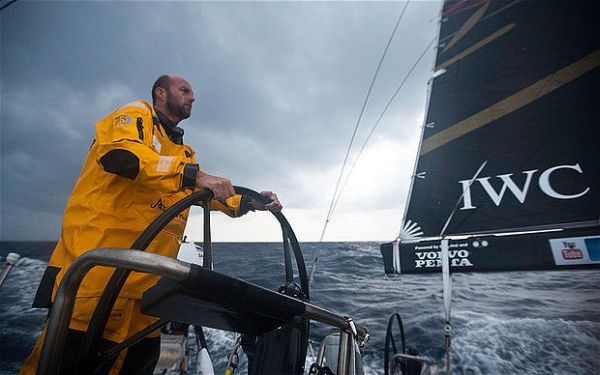 *
 T: Az eddigi legviccesebb pillanat a verseny során?
 IW: Azt olvasni a The Telegraph honlapján a verseny kapcsán, hogy a szkipperek 2 millió USA dollárt keresnek. Bárcsak igaz volna! De ahogy Lawrie Smith mondta egyszer: minél többet beszélnek arról, mennyit keresel, annál jobban fel vannak készülve, hogy fizetniük kell neked.
 T: Mi a legjobb a versenyben?
 IW: Hogy a szponzorok mennyire boldogok a Pro-Am versenyek* után. Olyankor mindenki mosolygott.
 T: A hajó iPod-jának legjátszottabb száma?
 IW: Nem nagyon hallgatok zenét, de szeretem a 12th Man című ausztrál vígjáték sorozatot. Sokat hallgatjuk Adele-től a Rolling in the Deep-et, és bármi jöhet a The Killers-től.
 T: Mit szeretsz legkevésbé csinálni a hajón?
 IW: Rázós körülmények között enni - nehéz beletalálni a szájba a kanállal. Olyankor nem nyújtok szép látványt.
 T: Hogyan pihensz a fedélzeten?
 IW: Sosem pihenek, abban rossz vagyok.
 T: Legkellemetlenebb pont?
 IW: Amikor kidőlt az árboc - de a "kellemetlen"- nél azért erősebb kifejezést használnék rá.
 T: Ki a csapat legidegesítőbb tagja?
 IW: Jules Salter, a navigátorunk. Ott ül balra lent, és mindig k*rva igaza van.
 T: Milyen szakaszon szeretnél leginkább versenyezni a VOR-on?
 IW: Talán egy Cascais - Kanári-szigetek út jó volna. Az végig bőszél.
 T: Mi a legjobb a Volvo70-es hajókban?
 IW: Az a tempó, ahogy falod a mérföldeket bőszélben - csúcs!
 T: Legkellemesebb meglepetés?
 IW: Megnyerni a kikötői versenyt Abu Dhabi-ban. Bár az nem volt meglepetés, mert tudtuk, hogy győzni fogunk - de attól még jól esett.
* A hivatalos kikötői futam (In-port race) előtti napon zajló örömvitorlázás, amikor a hajók legénysége csak korlátozott számban van jelen, a többiek a szponzorok képviselői.
(fotók: Nick Dana)
(forrás: The Telegraph)
Korábbi interjúk: Chris Nicholson, Ken Read.
A bejegyzés trackback címe:
A hozzászólások a vonatkozó jogszabályok értelmében felhasználói tartalomnak minősülnek, értük a szolgáltatás technikai üzemeltetője semmilyen felelősséget nem vállal, azokat nem ellenőrzi. Kifogás esetén forduljon a blog szerkesztőjéhez. Részletek a Felhasználási feltételekben és az adatvédelmi tájékoztatóban.